The Rise and Fall of the World's 10 Most Valuable Brands
by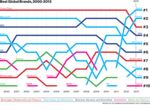 Coca-Cola has been dethroned by Apple from its long-running position as the world's most valuable brand, according to the closely watched Interbrand Best Global Brands survey. The soft drink giant had held the No. 1 ranking for 13 consecutive years but fell to No. 3 in this year's study by the consulting firm. Interbrand values the Apple brand at about $98 billion, and other tech companies such as Google, IBM, and Microsoft finished in the top five.
Here's a look at the twists and turns of the top 10 brands in the Interbrand study, which analyzes a brand's financial strength and influence, going back to 2000.
Before it's here, it's on the Bloomberg Terminal.
LEARN MORE