The Numbers Behind Hyundai's Brilliant Shutdown Marketing
By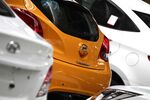 Hyundai's North American unit has rolled out a new offer to defer car payments for federal employees idled by the government shutdown this week.
The deal applies to any of the 800,000 or so furloughed workers who own Hyundais. Meanwhile, federal employees looking to buy a Hyundai this month can skip payments for 90 days.
"We recognize the impact on family budgets that the furlough will drive," John Krafcik, chief executive of Hyundai Motor America, said in a statement. "This is our way of saying 'We've got your back' during this uncertain time."
Attention, auto ad pros: This is how you do it. In one short press release, a Korean car company has drastically improved its Main Street cred—connecting with its low- to middle-income demographic without any slow-motion footage of wind-blown grain fields or bald eagles or welders stitching together steel beams in a shower of sparks.
"Make no mistake about it: This is a pure PR play," Edmunds.com analyst Jessica Caldwell told USA Today.
Hyundai has already derived a lot of traction from apparent pain-sharing. In the depths of the recession, it announced a deal that let people return their cars for a refund if they were laid off within a year of buying. Introduced in January 2009, the gambit seemed to pay off handsomely. Hyundai's U.S. sales increased 8 percent that year and another 24 percent in 2010. By the spring of 2011, the carmaker had been forced to buy back only 350 cars.
The shutdown marketing, however, may be even more savvy, because it is likely to cost the company very little. A 90-day grace period on new car payments isn't that novel. Plenty of automakers offer terms that sweet to all new buyers, not just those out of work.
What's more, the number of furloughed government employees who own Hyundais is likely pretty small. Only about 80 percent of Americans own vehicles, and for the past few years, the Korean company's share of the U.S. market has hovered between 4 percent and 5 percent. That trims the demographic Hyundai is targeting down to about 30,000.
Additionally, Hyundai said about 40 percent to 50 percent of buyers line up outside financing for their cars, which brings the number down further, to somewhere around 16,500. And then there are those who have already paid off their vehicles.
So you see where this road leads for Hyundai: no risk, lots of reward.
Before it's here, it's on the Bloomberg Terminal.
LEARN MORE