Texans Like Their Pickups Big, Too
The Lone Star State, America's No. 1 market for new trucks, is a battleground for the pricey brutes
By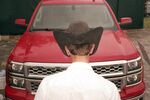 Everything, they say, is bigger in Texas. When General Motors' North America President Mark Reuss made his first visit to the State Fair of Texas in late September, he quickly learned that the maxim certainly applies to commanding the attention of the Lone Star State's truck buyers. Winding his way toward GM's exhibit, he passed Toyota Motor's truck display, where an eye-catching 4,000-plus-pound Tundra dangled 50 feet overhead. Nearby was a mechanical bull bucking amid a collection of Chrysler Group's Ram pickups with banners trumpeting its Truck of Texas award. Finally Reuss was confronted by a towering oil derrick with a Ford Motor F-Series spinning atop with decals reading "Best selling truck." "Everybody drives pickups and loves pickups here," says an impressed Reuss. "It feels bigger than life—and it is."
Wooing Texans is a crucial business for truck makers because the state is the largest market for new pickups in the U.S., with the trucks representing one in five vehicles sold in the state last year, according to researcher Polk. That compares with about one in eight nationally. More large pickups were purchased in Texas last year than the next three largest truck markets—California, Oklahoma, and Florida—combined. "There's more at stake in Texas in terms of volume and opportunities," says Jessica Caldwell, an analyst with auto researcher Edmunds.com. "It's shaping up to be quite the battle." (Trucks make up a larger share of North Dakota's vehicle sales, but volume is much lower.)

Winning converts in cowboy country is vital for Reuss because GM's pickups generated an estimated 16 percent of the company's global earnings before interest and taxes last year and redesigned versions could boost those earnings by more than $1 billion in 2013, estimates Citigroup. "The opinion and recognition of how good the truck is starts in Texas," says Reuss. "If we can win here with a great truck, there are ripple effects … across the whole country."
Reuss has overseen an update of GM's pickup line, including a heavy-duty version unveiled at the Texas fair and a luxury model designed specifically to entice Texas buyers. GM hadn't redesigned its pickups since 2006, and combined market share for its Chevrolet Silverado and GMC Sierra slipped to 33 percent in the Texas half-ton truck market last year from 36 percent in 2008, according to Polk. That puts it behind Ford's F-Series, the national leader and top seller in Texas last year, with 38 percent of the state's market.
GM dealers such as Tom Durant in suburban Dallas have struggled against Ford's premium F-150 King Ranch, named after an actual ranch in Texas. The truck, which starts at $43,920, has luxury touches such as Chaparral leather. "General Motors has been at a disadvantage for quite some time simply because we did not have the top-of-the-line truck," Durant says.
As part of GM's pickup redesign, a luxe Silverado model called the High Country will reach showrooms by yearend. Chevy executives say luxury pickups are the fastest-growing part of the full-size pickup market. Today 30 percent of pickups sell for $40,000 or more. A decade ago, the average price of a large truck was $25,640, says Edmunds.
The High Country will start at $44,110, only about $5,500 less than the starting price of a BMW 5 Series luxury sedan. It has leather seats that are a brown shade called saddle and the High Country moniker is embroidered into the headrests. There's also plenty of cowbow bling: Tom Peters, the trucks' chief designer, estimates that the High Country has 25 percent more chrome on the outside compared with the base Silverado. (Less-glamorous Silverados can be outfitted with a $2,000 Texas Edition option, adding 20-inch wheels, more chrome, and Texas Edition nameplates on the doors and tailgate.)
GM won't win new truck buyers without a fight. At Ford's 30,000-square-foot display at the Texas State Fairgrounds on Sept. 26, a huge video screen tracked the rise in new F-Series sales under a headline that read: "Every 42 seconds, another F-Series is sold." And Joseph Hinrichs, Ford's president of the Americas, didn't miss an opportunity to remind visitors of Ford's success in Texas, where he said the automaker had delivered its 33 millionth F-Series pickup this year at Sam Pack's Five Star Ford in nearby Plano. "The energy sector, agriculture sector—all of these are big drivers of what's driving the truck market in volume, especially right here in Texas," Hinrichs says.
It's always been tough to woo away brand-loyal pickup buyers. But GM faces a further challenge in places like Texas: the stigma of its federal bailout during the financial crisis. "We … know that the government ownership influence is highest among truck buyers," Reuss says. "Being owned by the government is problematic for now."
GM is spending to raise its visibility among Texans. At many gas stations in the state, drivers now find the ice chests festooned with pictures of the new Silverado, while ads for the truck play on TV screens at the pumps. TV spots for the new Silverado began in Texas days before the rest of the nation saw the ads during Major League Baseball's All-Star Game Home Run Derby in July.
GM's goal is to make 869 million consumer impressions using digital ads in Texas. Chevy also has 77 Silverado billboards in Texas and has scheduled 42 marketing events across the state for the truck—a third of all the model's events nationally before yearend. In August the carmaker announced a sponsorship deal with the state's beloved University of Texas football team.
The automaker expects the exposure to translate into strong early demand. So about 40 percent of the initial production of the new Silverados went straight to Texas, double the typical 20 percent. And, to almost no one's surprise, most of them were the special Texas Edition versions.