business
A Battery Fire Puts the Brakes on Tesla Shares
By
Few accident reports will be scrutinized as closely as the one involving a Tesla Motors sedan this week in suburban Seattle. Video of the Model S ablaze sent Tesla shares down as much as 9 percent on Wednesday, and fallout from the fire continues to pressure the shares today.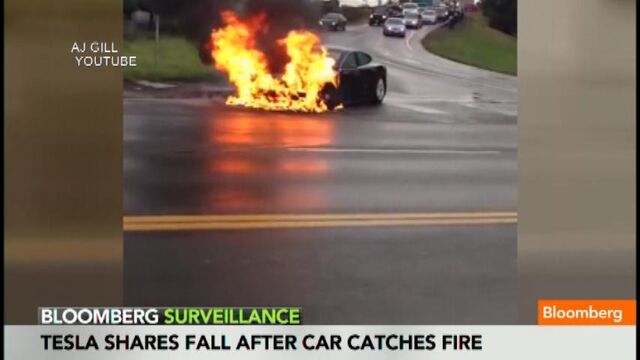 The motorist was driving south of Seattle through Kent, Wash., when he believed he struck metallic debris and pulled off the highway, the Associated Press reported. The automaker, which has seen its shares surge about 400 percent this year, said the blaze occurred after the driver hit "a large metallic object," which affected one of the 16 modules on the car's battery system. "Because each module within the battery pack is, by design, isolated by fire barriers to limit any potential damage, the fire in the battery pack was contained to a small section in the front of the vehicle," Tesla spokeswoman Elizabeth Jarvis-Shean told the New York Times.
Given the news and an analyst downgrade, Tesla shares have declined about 11 percent the past two days.
Such a fire "had to happen at some point," Deutsche Bank analyst Dan Galves wrote today in a note to clients. "We expect that negative news flow and investor concern over the impact to demand of this incident will put negative pressure on the stock in the near-term. And these are meaningful concerns, as this is a new technology and one in which sensitivity to safety risk is very high." Given the $70,000 car's record of tens of millions of miles on the road without a fire, however, Galves described the fire as "an isolated incident that could happen to any vehicle." Deutsche Bank has a buy rating on the stock and a target price of $200.
In August the Model S received a five-star rating from the National Highway Traffic Safety Administration in all tested categories, prompting the company to perform a bit of preening in its self-accolades. As a result, the most prominent item on Tesla's home page is a photo of a Model S with the words, "The safest car in America." Which is one reason why a battery-related fire, if it develops into a pattern, could be more than a bit of a bummer for the upstart automaker.
Before news of the fire erupted, Robert W. Baird & Co. on Tuesday downgraded Tesla, saying that much of the company's future growth has already been priced into the stock. Among analysts tracked by Bloomberg, seven rate the stock a hold, five a buy, and three a sell.
Before it's here, it's on the Bloomberg Terminal.
LEARN MORE