Sizzler Tries Deep Discount to Bring Back the 1990s
By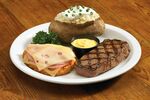 Sizzler is rolling back both its prices and the clock with the limited-time promotion it introduced this week: a $7.99 steak and chicken dinner, priced to match the menus on Sizzler tables in the mid-1990s. Think of it as an attempted return to the White Men Can't Jump era, a happier time for the steakhouse chain.
The item itself won't make Sizzler any money. The price of a full-service meal has increased more than 50 percent since 1997, according to data from the U.S. Bureau of Labor Statistics. So while $7.99 might have been enough to leave some profit for the chain 20 years ago, today it covers only the cost of the food itself, Sizzler' chief executive, Kerry Kramp, explains in an interview. He hopes that diners will add other items to their meal—such as drinks or salad—that might help cover the costs of labor and everything else.
The promotion might not boost the the suburban steakhouse's bottom line in the short term. The goal, however, is to get customers who haven't been to the chain in years—or ever—to see the redesigned restaurants, which Kramp credits for the 55-year-old company's recent turnaround. About 60 percent of Sizzler's 153 U.S. locations have been renovated. For context, it's worth noting that when Sizzler filed for bankruptcy protection in 1996, it had 451 outlets.
While the casual-dining sector has struggled recently—same-store sales at Darden Restaurants' Red Lobster locations have fallen for the past two years, according to Bloomberg data—Sizzler has managed to boost comparable sales over the past five years, Kramp says. He attributes this to both the restaurant revamp and updates to the menu and salad bar, which now includes such trendy ingredients as quinoa. The average Sizzler restaurant takes in $2 million per year, while the remodeled eateries generate $2.5 million in sales. The average check at Sizzler is a humble $12.53.
Rather than engage in an ongoing price war, which has hurt sales at other casual-dining chains, Kramp sees the steak-and-chicken sale as a once-only promotion to get people into the restaurants and convert them into loyal customers. "It's a unique way of advertising," he says. "The traffic will be the measure of success."