RadioShack Said to Seek Funds in 2013 for Vendor Support
Chris Burritt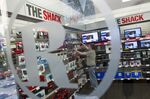 RadioShack Corp., the consumer-electronics seller that lost $139.4 million last year, plans to raise funds by the end of 2013 to persuade suppliers to support its turnaround effort, people familiar with the matter said.
The retailer has enough liquidity to last through 2014 and is arranging new financing to show suppliers that it has all of the capital needed for its turnaround, said the people, who asked not to be identified because the company's financing negotiations are private. The retailer would seek to raise the cash through debt financing, said one of the people.
Chief Executive Officer Joe Magnacca is counting on vendors to supply exclusive products to help the Fort Worth, Texas-based company distinguish its offerings from rivals' merchandise. RadioShack has posted six straight quarters of net losses and declining sales as its customers defect to big box retailers such as Best Buy Co. and online competitors including Amazon.com Inc.
"It probably has capacity for more debt," said Joscelyn MacKay, a credit analyst at Morningstar Inc. in Chicago. She estimates the retailer could borrow about $100 million without leading her to reduce her credit rating of CCC. It has the options of borrowing under a new loan or under two existing loans due in 2016 and 2017, she said.
Store Changes
Maggie Thill, a RadioShack spokeswoman who works for Weber Shandwick, declined to comment on the company's financing plans.
Magnacca, RadioShack's fourth CEO in three years, said in July that he'd hired turnaround adviser AlixPartners LLP and investment bank Peter J. Solomon to explore refinancing the company's debt. At the same time, he named Holly F. Etlin, one of AlixPartners' managing directors, the retailer's interim chief financial officer.
At the store level, Magnacca is reducing the number of slow-selling items such as laptops to reduce clutter while improving displays to boost sales of major brands, including Apple Inc. He told analysts in July that he met with vendors earlier this year to explain his plans for revamping stores so "they can place their bets on us, which I believe they are."
The company's performance is dependent upon vendors from telecommunications companies Sprint Corp. and AT&T Inc. to electronics makers Samsung Electronics Co. to Garmin Ltd., according to its annual securities filing.
Innovative Products
Magnacca has said he's working with suppliers to introduce more innovative products. RadioShack boosted sales of Bluetooth portable speakers with help from vendors such as Sonic Emotion, an Oberglatt, Switzerland-based developer of three-dimensional sound technology.
Losses are mounting as Amazon.com, the world's largest Internet retailer, sells accessories and gadgets at a lower price than RadioShack and Wal-Mart Stores Inc. expands its electronics departments. Clearance sales of slow-selling items and merchandise that RadioShack plans to stop selling are also hurting profitability this year.
RadioShack lost $53.1 million in the second quarter, more than doubling its year-earlier loss of $21 million, as sales slid 0.5 percent to $844.5 million.
Standard & Poor's in August downgraded RadioShack's debt to a CCC rating, saying a default was possible within 12 months, "absent a major business turnaround or increased liquidity."
RadioShack's $324.8 million of 6.75 percent senior unsecured bonds due in May 2019 traded at 69.8 cents on the dollar to yield 14.89 percent at 1:50 p.m. in New York, according to Trace, the bond-price reporting system of the Financial Industry Regulatory Authority. The notes have declined from their 2013 high of 82.5 cents on May 22.
RadioShack shares closed yesterday at a 93 percent discount to the Russell 2000 Index on a price-to-sales basis. The shares climbed 53 percent this year through yesterday and were down 5 percent since Magnacca took charge Feb. 11. They fell 4.1 percent to $3.25 at the close in New York.
Before it's here, it's on the Bloomberg Terminal.
LEARN MORE