Obamacare's Fast-Food Menu: Cutting Workers' Hours for Some, Slower Growth for Others
Fast-food chains lobby to change how Obamacare defines "full time"
By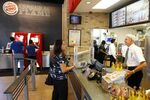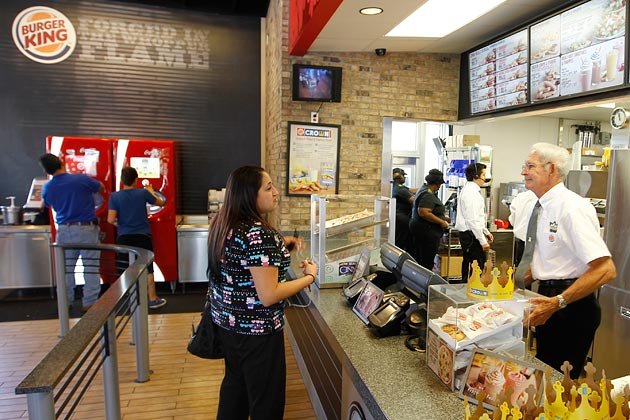 Restaurant owners have serious issues with the Affordable Care Act. The sticking point for many is the legal definition of a full-time worker as anyone averaging at least 30 hours a week on the job. By 2015, any company with more than 50 such employees (including "full-time equivalent employees," (PDF) according to the law) will have to offer health benefits. Restaurant execs have been meeting with Congress in a lobbying effort to nix the 30-hour rule.
Restaurant owners face two choices: If their businesses are profitable, they could dig into margins to cover the cost of insuring additional workers, thus curbing growth; or the owners could simply cut workers' hours to stay away from the 30-hour threshold as much as possible. Some 16 percent of restaurant workers are at risk of reduced hours, according to estimates from the University of California at Berkeley's Center for Labor Research and Education.
Firehouse Subs, the fastest-growing restaurant chain in the U.S. with more than 660 company-owned and franchised eateries, doesn't plan to cut workers' hours. But Chief Executive Officer Don Fox is sure that pressure from Obamacare-related costs will slow the rapid expansion of new sandwich shops. "It is not a matter of if it will slow them down," he says of the health-care law. "It is simply a matter of degree." Dollars spent on health benefits, Fox adds, are dollars that could have gone toward a new location.
The 30-hour rule affects all large employers, but there's a reason it's getting a lot of attention in the restaurant industry. Almost 21 percent of restaurant employees work 30 to 36 hours each week, more than twice the 8.9 percent rate across all industries, according to data on companies with 100 or more employees from Berkeley's Labor Center (PDF). Restaurant chains and franchisees argue that the mandate disproportionally affects their industry, where profit margins already typically range from 3 percent to 5 percent.
This won't be the first time restaurant owners have dealt with health-benefits requirements. Hawaii for decades has required employers to offer health insurance to employees who work more than 20 hours per week, and San Francisco businesses with 20 or more employees must spend a minimum amount on health care based on the numbers of employees and hours worked under a 2008 law. Some restaurants started adding a surcharge to bills to cover the cost.) Of course, some major restaurant chains, such as Starbucks and the Cheesecake Factory, already offer insurance to employees who work fewer than 30 hours a week.
What will it cost to insure more employees? Fox gave Bloomberg Businessweek a look at his analysis for Firehouse Subs, which we turned into the graphic below. The short answer: Health-care requirements will add about $4,000 in cost per restaurant in the first year.

Raising Firehouse's menu prices is an option, although an unpopular one for customers. As long as the cost of the program doesn't exceed projections, Fox says he plans to wait to see whether competitors move to raise their prices before making a decision.
Some large publicly traded chains also have reported the estimated cost of the mandate in their filings. Krispy Kreme, for example, doesn't expect the additional costs from Obamacare to exceed $5 million annually and notes that it might even amount to "substantially less." The relatively low cost is the result of franchising—in the U.S., the doughnut maker operates just 93 locations itself, with the other 150 controlled by franchisees who will be responsible for benefits. Operating income from Krispy Kreme company stores was about $8.5 million last year. Carrols Restaurant Group, a large Burger King franchisee, says if all its hourly employees receive coverage, annual costs will rise by $3 million. Still, the company expects only an additional $500,000 to $1 million in costs associated with Obamacare. Neither Krispy Kreme nor Carrols explain how they arrived at these figures in their filings.
As the Firehouse Subs example shows, however, there are two major factors that are likely to keep down businesses' additional health-care costs—at least in the short term. First, not all of the newly eligible workers will decide to buy the insurance. That's because some workers are already covered from other sources—perhaps under a parent's health plan, or if the worker is under 26 years old—or might elect to pay the penalty and remain uninsured, which for some workers might carry lower out-of-pocket costs than paying for coverage through their jobs. But employers largely expect the share of workers who buy insurance from them to rise as the penalty increases from $95 in 2014 to $695 per adult in 2016.
The other factor: Employers can work around the rule by assigning workers fewer than 30 hours each week. Steve Caldeira, CEO of the International Franchise Association, says this will "create costly and burdensome tracking of employees' hours" for businesses and keep employees from having "the flexibility to work the hours they need and are accustomed to."
Aziz Hashim, CEO of NRD Holdings, an Atlanta-based franchisee with 28 restaurants, says under the new requirement roughly 300 of his employees would qualify for health benefits—double the current number receiving coverage. "I would have to adjust hours so most of them work 29 hours or less," Hashim says. Paying $4,000 for health benefits so that someone could work a few extra hours more than the 30-hour threshold each week is simply not feasible, he says.
Hashim expects only 20 percent of his newly eligible employees will accept insurance in the first year. "But as the penalty gets higher, maybe 100 percent will want it. Then it's not $120,000 anymore—it's $600,000. That's a significant portion of our company's profit," he says. "I have to assume all of them will take it, for planning purposes. My bank wants to know what next year's finances will be. The additional cost will reduce the amount of money available to my company for expansion next year, and the number of jobs I can provide."
The other option for restaurant owners: stay small and avoid the mandate altogether. Sean Falk, a franchisee whose eateries include Mrs. Fields and Great American Cookies, says he now has 46 full-time employees, and the number might stop right there. "I've decided not to open any more locations," he says of his response to Obamacare. Job seekers will need to apply at another cookie store.
BOTTOM LINE -
The bottom line: Franchise owners say Obamacare's employer mandate will force them to curb growth or cut workers' hours.
Before it's here, it's on the Bloomberg Terminal.
LEARN MORE