JPMorgan Chase's Brian Tunick on Retail's Recovery via Value Pricing
Senior specialty retail analyst, JPMorgan Chase
By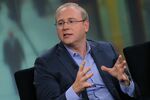 What do shoppers want? Experts discuss the forces reordering the retail industry.
Is the retail industry over the recession?
I have 25 companies in my universe in specialty retail. The sales as a group are the highest they've ever been, the sales per square foot are the highest they've ever been, and the profit margins are the highest they've ever been. Value is probably the overarching theme. Look at T.J. Maxx, Marshalls, and, to a little degree, Burlington Coat. The pace of the growth in off-price has been almost double the pace of regular apparel spending. And on top of that, there's not a weekend where an average specialty retailer in the mall is not offering some kind of 30 to 40 percent off deal. It certainly feels like the consumer is not shopping unless there's some kind of deal attached to it. And it's very hard to pull back when the consumer gets used to buying things on sale. The good news is margins, overall, are pretty good. But it's more of a function of benefiting from lower cotton costs, more efficiencies as companies close stores to focus on their better stores and returns, and using e-com as a vehicle to also help profitability.
Who's doing tech well?
Urban Outfitters is probably the poster child. They already have 25 percent of all of their sales coming online. And between their Urban Outfitters brand and their Anthropologie brand, they clearly have a tech-savvy customer. They've done everything from exclusive Web product, to new categories, to different loyalty programs, that have helped drive this customer. Now it helps when you start off with a catalog business. You have a customer that already has been trained to not visit your stores. The laggards in e-com have been off-price. T.J. Maxx really just launched its own website a couple of weeks ago. Ross Stores has no e-commerce capabilities. And Burlington does less than 1 percent of sales online. So far off-price has not been willing to stick their necks out for online. The concern that's out there, in general, is: What's going to happen to the business models for companies that have stores? You're certainly looking at a minimum of 20 percent of your sales to come online in the next five years. You wonder if they need to have so much real estate.
Where do you like to shop?
J.Crew, Suitsupply, Steven Alan, Paragon Sports, and H&M are favorite places to shop. Online I like Asos and Frank & Oak.
For more Fix This/Retail and to submit a question to our panel of experts, visit: www.businessweek.com/fix-this/retail.