Call My Broker. No—Call My Astrologer!
Mumbai's traders hire stargazers to understand the rupee's moves
By and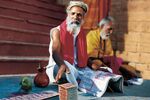 In the nervous hours of Sept. 18, markets worldwide waited to hear if the Federal Reserve would start to taper its record bond-buying program. As traders and fund managers in India hovered in offices listening for the Fed's announcement, Atul Maheshwari, a financial astrologer, received so many calls, instant messages, and texts from his 130 clients that he gave up trying to help and shut off his phone. "People were in a frenzy. I just couldn't answer everybody's questions," he says.