Call My Broker. No—Call My Astrologer!
Mumbai's traders hire stargazers to understand the rupee's moves
by and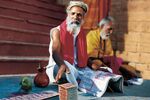 In the nervous hours of Sept. 18, markets worldwide waited to hear if the Federal Reserve would start to taper its record bond-buying program. As traders and fund managers in India hovered in offices listening for the Fed's announcement, Atul Maheshwari, a financial astrologer, received so many calls, instant messages, and texts from his 130 clients that he gave up trying to help and shut off his phone. "People were in a frenzy. I just couldn't answer everybody's questions," he says.
It was the second time in less than a month that the fortune teller, who works out of his apartment in a suburb 26 miles from Mumbai's financial district, was overwhelmed by clients' pleas for help. In late August, as the rupee plunged, he turned off his phone again.
In much the same way astrologers in India are called on to plan weddings, bless new businesses, and choose children's names, financial astrologers are called in when the rupee is fluctuating wildly, or when predictions for specific stocks and commodities are needed. Now the rupee's rebound has sparked even more panic. "They don't know which way to bet anymore," Maheshwari says, fiddling through books on numerology, cabala, and Vedic astrology. His computer flashes a stock price graph plotted by ChartNexus, a widely used provider of technical market analysis.
Because of the rupee crisis, calls to the 24-hour helpline run by GaneshaSpeaks.com, the country's biggest astro-consultancy, tripled to 90 per day on average. "People were swearing and yelling as they lost money," says Akshay Maradia, head of sales and marketing. The company, set up in 2003 by entrepreneur Hemang Arunbhai Pandit and celebrity astrologer Bejan Daruwalla, was named after Lord Ganesha, the elephant-headed Hindu god of wisdom who, Daruwalla claims, has inspired his forecasts.
Dharmesh Girishchandra Joshi, lead financial astrologer for GaneshaSpeaks, uses the earth's position in relation to the sun in calling gold prices and Saturn's movements to predict steel stocks. Maheshwari links the moon to moods that can sway investor decisions. Jupiter has power over banks, and Mercury and Venus affect the rupee, according to price and planetary data he's crunched. Maheshwari expects oil to hit $150 a barrel by August next year, up from between $100 and $110 now. "Fund managers used to laugh at me, saying if crude goes to those levels, we'll all have to go back to our villages. After so much volatility, nobody laughs it off anymore," he says.
GaneshaSpeaks co-founder Pandit was a code writer at what's now Vodafone India before venturing into astrology. Pandit found himself well equipped to create financial astrology software, as he and his team adapted astrological doctrines in old Hindu scriptures to modern financial markets. The company has 1,200 subscribers to its forecasts: A three-month package costs 5,000 rupees ($80.15).
Archit Maheshwari (no relation), a portfolio manager for wealthy investors at Far Asia Ventures, has consulted with financial astrologers for almost two years. "It is complementary to traditional market and technical analysis and a component in the [trading] decision," he says. Initially a skeptic, he says he received "spot-on" advice from his astrologer about gold and the rupee.
Such trust keeps the astrologers busy. "I'm constantly crunching market and planetary data," Atul Maheshwari says. "As planets move, they tinker with levels of greed and fear among investors."
Before it's here, it's on the Bloomberg Terminal.
LEARN MORE