How Old Is Too Old for an MBA?
Francesca Di Meglio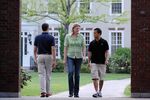 Can one be too old to go for an MBA? It's a question asked more frequently as older applicants—those north of 28, the average at many top full-time programs—look for ways to give their careers a B-school boost. Harvard Business School recently disclosed that the latest entering class includes 23 students who got their undergraduate degrees a decade or more ago, nearly twice as many as this year's graduating class.
Most admissions directors say they have no age limits when considering applicants. But they do look closely at work experience, which is usually directly linked to age. While more is generally better, too much can be a problem, since some recruiters believe older candidates are too set in their ways, says Christie St-John, director of admissions at Vanderbilt University's Owen Graduate School of Management.
Older students frequently expect the best of both worlds: a career in a new role or industry, and a salary commensurate with the extensive experience they accumulated in their pre-MBA careers. That's not always possible, says St-John, and in those instances, Owen might suggest the candidate opt instead for an executive MBA program—tailored to older candidates, many of whom are sponsored by their employers and intend to return to their companies after graduation.
Some opt to do just that, but not everyone is easily convinced. St-John recalls one student who, at the ripe old age of 42, enrolled in Owen's full-time program. Another applicant who was offered admission to both the full-time and executive MBA programs at the school did the same. Daniel Powers, now 35, is a member of the Class of 2015. He says he chose the full-time program because he wants to switch from finance to general management—much easier in a full-time program, where internships help facilitate career changes—and he did not want to give up weekends with his two young children, which would have been the case in the executive program.
Those in the military, who have lots of leadership experience but usually little in the way of business know-how, are a good fit for full-time programs, even though many are older by the time they apply. They bring rich experiences to the discussion and are usually more serious and less interested in partying than younger students, says St-John. She adds that they can often help ground their younger classmates and even mentor them.
Another advantage that many older applicants have is a clear sense of why they're getting an MBA and what they plan to do with it after graduation, says Sara E. Neher, assistant dean for MBA admissions at the University of Virginia's Darden School of Business.
Join the discussion on the Bloomberg Businessweek Business School Forum, visit us on Facebook, and follow @BWbschools on Twitter.