Hector Barreto Wants Hispanic Entrepreneurs to Tap More Loans
By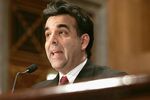 Since 2002 the number of Hispanic-owned businesses in the U.S. has doubled, to 3.2 million, according to Geoscape, and research from Nielsen shows Hispanic purchasing power is approaching $1.5 trillion (PDF). Despite that growth, Hector Barreto, former Small Business Administration chief and chairman of the research and policy nonprofit Latino Coalition, says Hispanic entrepreneurs face hurdles accessing financing. "Capital is oxygen," he says. "It's the air that small businesses breathe when they're starting and growing."
Later today, Barreto and Paul Quintero, executive director of microlender Accion East, will be talking about business funding for Hispanics during a webinar hosted by lending matchmaker Biz2Credit. That session begins at 3 p.m. Eastern time. I spoke recently to Barreto about the lending landscape. An edited transcript of that conversation follows.
What's the first thing Hispanic entrepreneurs should know about finding financing?
 
There are many sources of capital, and there are people out there to help them. A lot of times I talk to business owners and they'll say: "I tried to get a loan once; it was such a bad experience." The large banks have been interested for a long time, but their parameters are more precise. If you don't fit into their box, you don't get the loan. But there are all kinds of sources. Community banks might take a chance where bigger banks won't. The SBA has a lot of programs. There are microlending programs out there.
 
There's a perception that post-financial crisis, large banks aren't interested in lending to small businesses. How do you see the lending environment today compared to when you were running the Small Business Administration?
 
When I got to the SBA in 2001, I took a look at the SBA numbers, and I was a little surprised by what I saw: The SBA had been stuck on about 50,000 loans a year for some time. I also noticed that the average SBA loan was for about $400,000, and small business owners were saying, "I don't need that big a loan. I need $50,000." I brought in all the big banks, the community banks, the rural banks, and said, "We need to do more banks loans for smaller amounts."
 
They smiled at me and said, "Look, Hector, congrats on all your goals. Those are not our goals. We're not philanthropic organizations. It takes too long to get an answer from you guys, and look, time is money. If you can save us time, we can do more of these loans."
 
We cut down on some of the different processes. We doubled the number of loans we did and lowered the average loan size down to $200,000. Big banks found out how to do those smaller loans.
 
How does that apply to the lending landscape today?
 
Obviously, there's been a huge financial letdown. A lot of these banks have had to reorganize. They've had to decide how aggressively they want to pursue small business portfolios. As you know, the SBA doesn't have a confirmed administrator. I hope that once someone gets confirmed, one of their first orders of business is to bring in all the partners and say, What do we have to do? What can we do to be a better partner to you? We're not going to do everything you ask us for, but let's look at the low-hanging fruit.
 
Hispanic women make up an increasingly large percentage of U.S. entrepreneurs. Do you have any advice for them as they seek capital for their businesses?
 
We believe that Hispanic women are starting businesses three times as fast as any other demographic. When I was growing up, there were very few women business owners. I think there was a stigma that women should take more conventional routes.
One thing we've seen is that a lot of women are brand new to business. They recognize that they may not excel at everything from the onset, and they're willing to ask for help. I think that women are using their networks, whether it's to get an introduction to a banker, or get help procuring a contract, or to figure out how to offer better service, or competitive pricing. The willingness to be collaborative is something that all entrepreneurs can learn from.