Forget TVs. Sharp Sees a Future in Strawberry Farming
Sharp finds an unorthodox use for its LED lights and air purifiers
by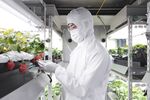 Sharp, known for its televisions, actually has its origins in mechanical pencils. Its future may rest on a business distant from either of those: growing strawberries in the deserts of Dubai.
The struggling consumer-electronics company announced on Sept. 20 plans to ramp up an experiment it started in July, in which berries are grown in a hermetically sealed farm lit with Sharp's power-efficient LED lights. Sensors made by Sharp track temperature and humidity, and the company's Plasmacluster air-purification system, which it markets to consumers, helps protect the fruit by killing germs, bacteria, and mold. Dubai is a logical home for the project, because Japanese strawberries are popular in the Middle East, expensive, and quick to spoil. Sharp says it will collect data on how well its cultivation techniques work to "achieve stable production of high-quality strawberries."
The company recorded a net loss of 545.4 billion yen ($5.3 billion) in the fiscal year ended in March and lost 376 billion yen the year before. It fired thousands of workers and cut capital investments by 31 percent in the last fiscal year, when revenue from LCD televisions and smartphones fell to half their level from four years earlier. In those four years, the proportion of revenue Sharp made from the sale of electronic components such as liquid-crystal displays and solar cells rose to 46 percent, up from roughly one-third. Success in agricultural technology could help position it for the shift.
Sharp won't be dispatching its employees to fruit stands anytime soon. "We will not enter the strawberry selling business," says spokesperson Riko Ifuku. The company says it will decide if it can create an agricultural engineering business that will focus on factory design, technology to monitor growing conditions, and maintenance services. Sharp also intends to bring in local partners but says it's too early to name them or discuss specific clients. The company is eligible for subsidies from Japan's Ministry of the Economy, Trade and Industry but wouldn't say how much of its own money it is investing in the agriculture technology.
The farming laboratory isn't the only way Sharp is targeting agriculture. On Sept. 26, it said it will begin in October to sell a sensor that enables corporate customers to monitor levels of microbes such as bacteria and mold spores in the air. The tool can help food-processing companies perform in 10 minutes facility inspections that usually take hours, according to the company.
If Sharp can win over strawberry growers with its laboratories in Dubai, it could go down as one of the sweetest pivots in recent tech history. Take note, BlackBerry.
Before it's here, it's on the Bloomberg Terminal.
LEARN MORE