Fifth & Pacific CEO William McComb on Retail's Altered Landscape
CEO, Fifth & Pacific. Brands include Juicy Couture, Lucky Brand, Kate Spade New York, and Jack Spade
by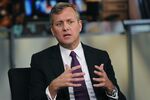 What do shoppers want? Experts discuss the forces reordering the retail industry.
What have you experienced in the years since the financial crisis?
We had had a fundamental collapse in our business model a year and a half before Lehman Brothers collapsed. So at a time when things were great, we were a disaster. So that's my preface to the answer to this question. The headline is that in some ways the economic downturn further commoditized the business. It kicked off a race to the bottom. The use of promotions increased dramatically. There was channel consolidation and brand consolidation. And at the same time the global power value players—H&M and Zara—got stronger. That segment of the market, what I'll call the value segment, is harder than ever. And that was the bulk of what our company was. We don't play there at all today. We're virtually 100 percent out of it.
Which social media platforms seem to get the most return for you?
Pinterest is at the top. But Instagram and Facebook are enormously influential. Lena Dunham had an adorable black and white Kate Spade Saturday jumper on and took a photo of it, and it was on her Instagram page. And you know, she has 527,000 followers. It got 24,000 "likes" immediately. And boom! We saw enormous traction on the site. When that happens, and it's almost every day, it's as effective as an ad.
What's the strategy behind launching Kate Spade Saturday, your online-only brand?
Part of it is a decision to drive a certain capital efficiency, but the other part is to lean into a new business model. The idea and inspiration of Kate Spade Saturday is to reach a younger customer. The girl, if I can use that word, that we want to target is even more digitally obsessed and lives her life on mobile devices. We believe that we're at a point, the economy is at a point, and the consumer has evolved to a point where she doesn't need to have a physical store to go see and touch and try.
How does mobile technology affect the way you run your physical stores?
Mobile democratizes some of the regional preferences. If [a customer] sees something that isn't available in the store, we have iPads and our associates are very good at using them and placing an order with free shipping to make sure that any retail store has access to the whole line's inventory. Also, when we launched Kate Spade Saturday in Manhattan, we had touchscreen shoppable walls on windows in storefronts that weren't stores. So we created and pioneered the concept of an inventory-less, staff-less store. It was very cool.
Was that a real driver of sales or just a marketing tool?
It was 100 percent about marketing. But I actually think that inventory-less, staff-less stores can be a real driver of volume.
What do you think is the main thing that industry is getting wrong right now?
People can't get their own bricks and mortar out of the way. Their organizations are built to put all of the emphasis and all of the bias on buying inventory, deploying it into physical stores, and moving and turning the inventory from those stores in a parochial way.
Where do you like to shop?
I was in a store yesterday in New York called Suitsupply, which sounds awful. But it's an amazing concept from the Netherlands, a very trendy bespoke-type suit store that is selling a broad line of menswear all the way into accessories. And the concept was absolutely incredible and exciting.
For more Fix This/Retail and to submit a question to our panel of experts, visit: www.businessweek.com/fix-this/retail.
Before it's here, it's on the Bloomberg Terminal.
LEARN MORE