Citigroup Fined $30 million for Leaking to Hedge Funds
by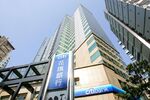 Yesterday, Massachusetts Secretary of State William Galvin demonstrated his interest in competing with Preet Bharara for the title of Sheriff of Wall Street by exacting a $30 million penalty from Citigroup. The case mirrors the widespread insider trading crackdown that's been rattling hedge fund nerves across New York.
"Just a year ago, with Facebook, we fined them $2 million, when they were playing the same game," Galvin told the Boston Globe. When certain investors have inside information about a company, he said, it puts other investors at a disadvantage, similar to "going to the supermarket and having a weighted scale."
According to the settlement, a Citigroup analyst in Taiwan named Kevin Chang offered research, which pointed to lower shipments of the iPhone 5, to a select group of clients one day before the report was available to the rest of the market. The clients who got the advance research allegedly were T. Rowe Price and hedge funds Citadel, GLG Partners, and SAC Capital.
"Hey Kevin, are you picking up any order cuts to iPhone?" asked one SAC Capital trader on Dec. 12, 2012, according to the settlement. The same morning, an employee of SAC's CR Intrinsic division also e-mailed Chang asking for his thoughts on another analyst's newly released negative report. Several other SAC employees logged similar inquiries, including: "SAC request for conference call today URGENT." Another read: "can u send me everything u have on the entire iphone 4/4s/5 supply chain?"  Citadel and GLG also chimed in. Chang apparently succumbed to the pressure and sent a preview of his unpublished research to the anxious Apple traders.
In addition to the fine, Citigroup agreed as part of the settlement to increase compliance and review its electronic surveillance of communications between its analysts and those outside the company.
Update, 3:29 p.m.: "We are pleased to have this matter resolved," a Citigroup spokeswoman said in an email statement. "We take our regulatory compliance requirements very seriously and train all of our employees about these obligations.  We are also constantly working to improve, manage and monitor the compliance and controls process."
Before it's here, it's on the Bloomberg Terminal.
LEARN MORE