Chipotle: The One That Got Away From McDonald's
By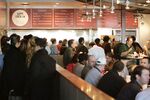 AOL + Time Warner.
Daimler + Chrysler.
Bank of America + Countrywide.
The Corporate Hall of Shame is wallpapered with press releases from decades of regrettable mergers.
It's time to tack one on from a split, however amicable: McDonald's 2006 divestiture of Chipotle Mexican Grill, in which the world's biggest restaurant company let go of what would rapidly become the hottest restaurant brand in the land. Chipotle has disrupted everything up and down the food chain, forcing everyone from Taco Bell (YUM) to Chili's to scramble to stay relevant. And for what? When it sold out completely seven years ago, after ramping Chipotle up from 16 locations to more than 500, the Golden Arches pocketed $1.5 billion. Chipotle, which has since tripled its store count, is now valued at just more than $13 billion.
Shares of the fast-casual burrito roller are up 44 percent this year and 1,316 percent since its initial public offering in January 2006. Chipotle commands a price-earnings ratio of 45, more than twice that of its longtime parent. It's increasing earnings and sales at 20 percent and 28 percent, respectively, compared with McDonald's at 1.5 percent and 2 percent, according to data compiled by Bloomberg.
Amazing to think now, but Chipotle, a torchbearer for eating out thoughtfully and sustainably, was for a long time controlled by the very symbol of mass-produced, agro-heartless fast food. Mickey D's should rue the day that it let it go.
In early 1998, when McDonald's took its minority stake, Chipotle was a 14-store experiment based in Denver. By 2005, with 460 Chipotles covering the map—the chain was adding 100 restaurants a year, many with lines literally out the door—McDonald's had increased its ownership to 90 percent of the subsidiary (its total investment was about $360 million). But instead of riding the hyper-growth story, Big Mac & Co. opted to spin it off to focus on its core burgers and fries.
"I think McDonald's had such a huge system that they thought Chipotle could never be meaningful enough when they sold it off," says Lynne Collier, a managing director with Sterne Agee who covers the sector. "It turns out Chipotle is probably the best restaurant brand created in 10 or 15 years, with the best growth and profit metrics in the industry. I do think about how it could have been for McDonald's had they kept it."
Competitors would kill for Chipotle's numbers. Collier calculates that each new outlet brings in yearly sales of $2.1 million, which then throws off cash flow (earnings before interest, taxes, depreciation, and amortization) of $574,000. Consider the $800,000 average investment to open a new Chipotle, she notes, and you have an average "cash-on-cash" return of 72 percent ($574,000 divided by $800,000). That compares with 25 percent to 35 percent for the rest of the industry.
"McDonald's," Collier says, "probably regrets it."
"McDonald's remains focused on serving our 69 million customers around the world every day," a spokeswoman for McDonald's says.
For its part, Chipotle, which is now celebrating its 20th anniversary with more than 1,500 locations in 44 states and four countries, is hardly nostalgic for the McDonald's years.
"I've never thought that we reached Chipotle's full potential during the time with McDonald's," said founder and Chairman Steve Ells in a recent interview.
"Think about the systems at McDonald's," he added. "It's a very mechanized world, where you take out a highly processed patty. This frozen puck. You put it on a grill. You put it on a machine. You push a button. It beeps when it's done, right? How are you going to attract top performers to fill that function?"
(So stings the wrath of an ex.)
Meanwhile, McDonald's is again starved for ideas and growth, while just about every brand in the restaurant biz is trying to sneak the word "chipotle" onto their menus.