Chinese Still Prefer Property Over Stocks
Despite curbs, a promise of higher returns keeps housing markets hot
Bloomberg News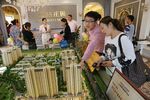 Matthew Zhou and his wife spent 1.6 million yuan ($261,000) to buy a two-bedroom apartment in eastern Shanghai in August because they saw no potential to make money in China's financial markets. "Home prices keep rising, so I'd rather buy a place now than put the money in the stock market," says Zhou, 30, an information technology engineer at a state-controlled bank in Shanghai. Gains in equities "could never outpace the growth of home prices," he says.
The preference of people such as Zhou for property over other investments is one reason residential prices have defied a long-running government campaign to put the brakes on the housing market to keep homes affordable. New home prices in major cities, including Beijing and Shanghai, rose more than 10 percent in July from the year before, compared with a more than 10 percent drop in the benchmark Shanghai Composite Index during that period. Even after a recent rally, the Chinese stock market is down 32 percent since the end of 2009. Saving rates on bank deposits are set at 3 percent.
The government of Premier Li Keqiang is in a bind when it comes to controlling property prices. The economy is tepid by Chinese standards, growing at an annual rate of less than 8 percent in the past five quarters, and Li signaled in July that he doesn't want to see the rate fall below 7 percent. Property, construction, and related industries account for about 20 percent of gross domestic product, according to Société Générale. "Economic growth and property curbs are trade-offs," says Ding Shuang, a senior China economist at Citigroup in Hong Kong.
In March, former Premier Wen Jiabao in his last days in office stepped up efforts begun in April 2010 to cool the market. He ordered the central bank to raise down-payment requirements for second mortgages in cities with excessive housing price gains and told cities facing "relatively large" increases to further tighten home purchase limits. Buyers haven't been deterred. Home prices have climbed every month since March and in August rose 8.6 percent from the year before, the most since December, according to a survey of 100 cities by SouFun Holdings, which runs China's biggest real estate website.
Real estate has attracted "the lion's share" of household investment in China, according to a July report by Standard Chartered. It has made up more than 60 percent of household assets since 2008, compared with 48 percent in the U.K., 32 percent in Japan, and 26 percent in the U.S., the report says.
Wang Jianlin, China's richest man and owner of Dalian Wanda Group, the country's biggest commercial land developer, says the property market is "definitely" in a bubble, though it's "controllable, not big." Michael Chang, a 33-year-old investment manager in Shanghai, isn't concerned about bubbles. He spent 1 million yuan on a 215-square-foot, one-bedroom apartment in Beijing in August last year and 5 million yuan on a 1,400-square-foot unit in a Tishman Speyer Properties development in Shanghai this year. "You see home prices rally even when the curbs are in place, not to say when the bans are lifted," says Chang, who expects Shanghai prices to rise 50 percent in the next five years. Citing a recent ranking of global housing prices in which Shanghai placed sixth and Beijing did not appear, he says: "Let's talk about bubbles when Beijing and Shanghai rank among the world's top five most expensive cities."
Before it's here, it's on the Bloomberg Terminal.
LEARN MORE