Businesses Often Opposed to Government Beg for Its Return
Jim Snyder, Brian Wingfield and Jonathan D. Salant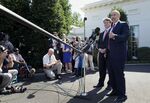 It seems for U.S. businesses, the only thing worse than too much government is no government at all.
The U.S. Chamber of Commerce, which spent $35.7 million during the 2012 campaign, primarily in support of Republicans, deployed its army of lobbyists to encourage an end to the first partial government shutdown in 17 years. Across town, top Wall Street executives gathered at the White House and warned of the consequences if no resolution was found to the next crisis, a potential default on federal debt.
"Our top lobbyists have been on the Hill and making calls," said Blair Latoff Holmes, a spokeswoman for the Washington-based Chamber of Commerce, which represents companies including Exxon Mobil Corp. and Ford Motor Co., said in an e-mail. "We're continuing to talk to scores of members of Congress and their staff."
Pressure from the business community has worked in the past to forge compromise. In 2012, the Chamber of Commerce fought to secure the reauthorization of the U.S. Export-Import Bank, which helps foreign buyers purchase American exports, after Tea Party Republicans favoring limited government threatened to block an extension of the bank's charter.
The Chamber also lobbied to end the 1996 government shutdown, which lasted a total of 21 days.
Ideological Divide
Some lobbyists said business's ability to exert influence this time is limited because the dispute is driven by a deep ideological divide over the value of President Barack Obama's signature health-care overhaul, which the House is seeking to delay in exchange for continued funding of the government.
"Obamacare is a theological issue for Tea Party Republicans," said Michael Hacker, a former House Democratic aide who now works at a lobbying and public relations company HDMK. "No amount of pressure from the business community is going to change their convictions."
That isn't keeping businesses -- from banks to travel companies to defense contractors -- from trying.
"There's a consensus that we shouldn't do anything that hurts this recovery," Goldman Sachs Group Inc. Chief Executive Officer Lloyd Blankfein said after meeting with Obama at the White House. "They shouldn't use the threat of causing the U.S. to fail on its obligations to repay its debt as a cudgel."
'Killing Us'
JPMorgan Chase & Co. CEO Jamie Dimon and Brian Moynihan, CEO of Bank of America Corp., also attended the meeting, which was arranged by the Financial Services Forum, a Washington-based trade group that represents CEOs for the largest Wall Street banks.
Lobbyists from the Aerospace Industries Alliance were on Capitol Hill yesterday, urging resolution.
"The shutdown, debt ceiling and sequestration were all topics," said Dan Stohr, spokesman for the Arlington, Virginia-based trade group for such companies as Lockheed Martin Corp., Raytheon Co., and General Electric Co. "We are urging members to work with each other and President Obama to come to a solution on all the issues that are facing us. You just can't run a business this way. The uncertainty is killing us."
John Dern, a spokesman for Chicago-based Boeing Co. said the aircraft maker is "watching developments closely."
"We've been encouraging both sides to work together to find solutions to the issues confronting Congress and the administration," Dern said.
Caterpillar CEO
Board members of the National Association of Manufacturers, including Doug Oberhelman, chief executive of Caterpillar Inc., have been in contract with Congress and the administration, said Aric Newhouse, the senior vice president for policy and government relations for the Washington-based trade group.
"Our members and we at the association are in regular contact with both sides of the Hill and the administration to highlight our strong belief about where we are and where we need to go," Newhouse said.
Bud Albright, senior vice president for policy & government affairs at CenterPoint Energy, Inc., a Houston-based public utility holding company, said he is urging businesses to promise to support members who work to find a compromise from a primary-election challenge that may arise as a consequence.
$300 Million
The shutdown is costing $300 million a day in lost economic output, according to IHS Inc. While that's a fraction of the country's $16.7 trillion annual economy, some businesses are more affected than others.
"Pharma is going to need trials to start back up," said Robert Hoopes, president of VOX Global, a subsidiary of Omnicom Group Inc, said, referring to the pharmaceutical companies. "The travel industry is going to need the parks to open back up. The services industry, which has huge government contracts, is going to need the government to open back up."
The Environmental Protection Agency isn't reviewing new pesticides during the shutdown. Companies such as Syngenta AG have applications pending with the agency, and now face delays.
"The longer it goes, the worse it gets," said Ray McAllister, senior director for regulatory policy at CropLife, a trade group that represents pesticide and fungicide makers. "And if I miss my market timing by a week or two, I can miss an entire year."
Document Checks
John Northington, a Washington-based oil and gas consultant, said companies that drill on public lands won't be able to get new federal permits from the Bureau of Land Management, which is operating with a "skeleton crew."
That means drilling rigs companies have on contract will either sit idle or will go to producers drilling in areas outside of U.S. lands, he said.
Borrowers in the process of obtaining a home loans could be delayed as lenders are blocked from verifying Social Security numbers or accessing Internal Revenue Service tax transcripts. Banking executives said the process may also lengthen the wait for borrowers seeking approval for mortgages backed by the Federal Housing Administration.
"The last thing we need is anything that shakes the confidence in a softly recovering housing market," David Stevens, chief executive officer of the Mortgage Bankers Association and former head of the FHA, said in a telephone interview.
Job Applicants
The loss of the Internet-based, government-run system known as E-Verify makes it harder for employers to check whether job applicants may work legally. Participation is voluntary for most companies, though some must use it by state law or federal regulation.
Builders won't hire help in states that demand those checks -- such as Utah and Arizona -- as long as the system is down, Jerry Howard, chief executive officer of the National Association of Home Builders in Washington.
Patricia Rojas-Ungar, vice president of government affairs at the U.S. Travel Association, whose members include Marriott International Inc. and The Walt Disney Co., spent yesterday meeting with lawmakers and their staffs.
Foreign travelers fearful of long lines at U.S. airports due to the shutdown are choosing to stay home, even though airport operations so far haven't been affected by the shutdown, she said. Travel companies are also being hurt by the loss of government-funded travel, Rojas-Ungar said.
"We really have to come to the table and get the shutdown resolved," she said.
(Corrects member of National Association of Manufacturers in contact with Congress in 15th paragraph. For more on the shutdown, see EXT2.)
Before it's here, it's on the Bloomberg Terminal.
LEARN MORE