Why Obama Shouldn't Cancel His Asia Trip
By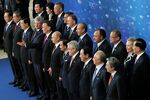 With the government shut down, the White House announced that the president's upcoming trip to Asia, scheduled to begin Oct. 6, will be cut short. Plans to visit Malaysia and the Philippines have been shelved for now, though Barack Obama will still attend the annual Asia Pacific Economic Cooperation (APEC) meeting of leaders in Bali, Indonesia.
Republicans will undoubtedly accuse Obama of hitting the beach rather than resolving the budget crisis, but the president's decision to keep his commitment to APEC makes sense. Southeast Asia is increasingly critical to U.S. interests, and Obama has made the region the heart of his government's "pivot" of forces and diplomatic personnel to Asia. To make good on that goal, Obama should push forward several critical ideas that would help the region become a better market and trading partner, and that would enhance stability in Southeast Asia. It's doubtful he'll be able to accomplish anything substantive during his abbreviated trip to Bali. But in his conversations with Asian leaders, here's what he needs to focus on:
1. Make a Real Push for the TPP
Obama could promise the other leaders at APEC to personally push to resolve the remaining American roadblocks to the Trans-Pacific Partnership. The TPP is a regionwide free trade deal that, if the U.S. agreed to it, would be the largest free trade deal in American history. The TPP will be foremost on the minds of most Asian leaders, as it would be an enormous deal for them, as well, and a potential counterweight to their trade agreements with China. Obama could further promise to work with America's drug industry to reduce the trade protections they receive—protections that could scuttle the free trade deal.
2. Head Off Protectionism
Besides vowing to make the TPP a reality (at least until it gets to Congress), President Obama could take steps to head off the protectionist climate building up in some Asian nations. He could offer to unilaterally ease some American restrictions on high-profile imports from such countries as Indonesia and the Philippines, where legislators have pushed for new laws that could severely inhibit foreign investment. At the same time, the president could reinforce to Southeast Asian leaders that, if they fail to meet their own 2015 deadline for establishing a free trade area for the 10 nations in the region, that failure would come with severe costs in potential foreign direct investment.
3. Reach Beyond Governments
Though Obama will spend one-on-one time with the leaders of Indonesia, Malaysia, the Philippines, and other Asian nations on the sidelines of APEC, he needs to be more vocal about how he handles places where the road to full freedom remains bumpy. When it comes to Malaysia, such a democracy-first strategy would mean not only highlighting how Prime Minister Najib tun Razak has helped rebuild U.S-Malaysia strategic ties but also reaching out to opposition leaders such as Anwar Ibrahim. In May, Najib's coalition actually lost the popular vote to Anwar's opposition coalition, and if not for massive gerrymandering and alleged voter fraud, Anwar's coalition probably would be running Parliament now. In Indonesia, the president not only could praise Indonesian President Susilo Bambang Yudhoyono for his steady leadership over two terms but also might meet with younger leaders from parts of the country other than Jakarta.
4. Support the Struggle for Democracy
President Obama should not ignore the unrest taking place in other countries in Southeast Asia, unrest that also could lead to greater democracy. The White House has said little about Cambodia's recent elections, in which, as in Malaysia, the opposition might have won if not for massive fraud. Despite the contested election, the Pentagon is continuing closer military to military ties with Phnom Penh's thuggish government, and the State Department and White House are acting as if the outright fraud and thuggery in the election did not happen.
Will Obama get to all these priorities in Bali? Probably not. Obama may trumpet the TPP, as he has done regularly, but he has shown little inclination to take on the U.S.'s own protected interests to push it forward, and Congress is hardly interested in taking up a trade agreement right now. Even in the days just after Cambodia's and Malaysia's flawed elections, the White House did little about them, leaving it to Congress to condemn the apparent fraud. And with the fiscal crisis still occupying the president's mind, democracy in the region is likely to get no attention at all. That's a missed opportunity—and one more example of how dysfunction in Washington is hurting America's national interests.
Before it's here, it's on the Bloomberg Terminal.
LEARN MORE