Who Wants to Go to North Korea for Christmas?
By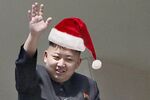 "What is your most cherished Christmas memory? Novelty knitted jumpers, overcooked Brussels sprouts and family arguments? Time to try Christmas in North Korea!"
That's the pitch from Taedong Travel, a Chinese tourist agency that's advertising a unique holiday getaway: "the first opportunity to spend the Christmas in North Korea." The tiny dictatorship has long banned Christmastime tourists, according to various travel agencies. For little more than $1,000, plus extra fees for those who want a single room or require additional travel, international visitors will set out from Dandong, China, by train and spend five days and four nights in the totalitarian state's capital city, Pyongyang. "Will you be visited by Santa Claus, enjoy Ginseng flavored Turkey or listen to familiar Christmas carols?" reads the promotional e-mail. "Just how is the festive period celebrated in North Korea? No one knows. No tourist has ever been allowed in the country at this time before."
Before signing up, Christmas-loving travelers might consider that North Korea is ranked among the most hostile countries (pdf) in the world for Christians, according to the U.S. Commission on International Religious Freedom. Thousands of Christians are believed to be imprisoned in the country's labor camps, along with people of other faiths. Classified as hostile to the socialist government, Christians are routinely arrested, tortured, and even killed. At least one Christian has been publicly executed for the crime of distributing Bibles. Foreign missionaries also report being severely beaten and sexually abused. In April, American missionary Kenneth Bae was sentenced to 15 years of hard labor.
That aside, "North Korea is the most safe country in the world," says Emily Qiu, who works for Taedong Travel. "If you want to celebrate Christmas there, you are welcome. We are just tourists, travelers—we are not journalists or soldiers, so we are safe." Qui says 15 people have already signed up to celebrate the birth of Jesus in Pyongyang, hailing from the U.K., Germany, France, and the U.S., among other countries.
North Korea likely broke its ban on Christmastime visitors to cash in. "Almost all of [our clients fees] go to North Korea, though we get a commission," says Qui. The impoverished dictatorship has been known to do surprising things for foreign dollars (see my story on how the Hermit Kingdom runs a multimillion-dollar business building statues and monuments for a long list of countries around the world, many of them in Africa).
Though North Koreans do not celebrate Christmas, visitors will likely find festivities in full swing: Dec. 24 marks the birthday of North Korea's "Sacred Mother of the Revolution" (pdf), Kim Jung Suk, wife to the country's first leader and mother of the late Kim Jong Il.
Before it's here, it's on the Bloomberg Terminal.
LEARN MORE