The Sum of All Clancy: Board Games, Video Games, Movies, and Lots of Books
By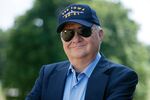 In any estimate of the world's bestselling authors, there is William Shakespeare, Agatha Christie, and everyone else. With at least five titles that topped the New York Times bestseller list, Tom Clancy is one of the bigger names in the "everyone else" category.
Hard numbers are difficult to come by in the publishing world, but by any account Clancy, who just died at age 66, was a literary mint. He was still peddling insurance in 1984 when he sold The Hunt for Red October to the Naval Institute Press for $5,000. Its immediate success quickly drummed up $1.3 million and a string of more lucrative deals. His ensuing three-book, $3 million contract was lavish in 1980s publishing.
Here's a snapshot of Clancy's popularity: Stephen King had the top fiction bestsellers of 1986 and 1987 with It and The Tommyknockers, respectively, while Clancy owned the next two years with The Cardinal of the Kremlin and Clear and Present Danger. In comparison, Clancy sold almost 300,000 more books than King, a 10 percent difference.
A decade later, Clancy was an unmatched literary superpower. By 1997, he had amassed more than $100 million in book deals, including 24 paperbacks to tie in with an ABC miniseries, Tom Clancy's NetForce.
"I don't know of anyone who comes even close," Clancy's agent Robert Gottlieb told Publisher's Weekly at the time.
With his riches, Clancy bought an estate, a tank, a slice of the Baltimore Orioles, and a bunch of leather jackets and sunglasses.
Today, literary franchises can hit Clancy-type sales numbers in a few hours, but books—specifically a unique brand of military thriller—were just a part of the Clancy universe. There were also the feature films stocked with A-list actors—four in all: The Hunt for Red October, Patriot Games, Clear and Present Danger, and The Sum of All Fears. In total, the films grossed $616 million at theatres, according to Box Office Mojo. That's roughly equivalent to about two Harry Potter films.
Clancy's name also powered up a video-game company, Red Storm Entertainment, which had a string of hits, including Rainbow Six and Ghost Recon. When the company was bought by Ubisoft in 2008, Clancy cut a deal to keep his name on the games.
Low-tech Clancy fans can still buy a bevy of board games based on his books. And Clancy may be gone, but he has another new book coming out in December.
Before it's here, it's on the Bloomberg Terminal.
LEARN MORE