Small Businesses Added 74,000 Jobs in September: ADP
By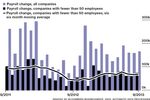 U.S. business's slow growth in jobs may be getting even slower, but small businesses held their own in September, according to the ADP National Employment Report. Companies with fewer than 50 employees added 74,000 jobs in September, about 45 percent of the total gain in private payrolls and the biggest gain since June.
The total increase across businesses of all sizes, 166,000 new jobs in September, fell short of analysts' forecasts. Automatic Data Processing's number for new jobs in August was revised down from 176,000 to 159,000. "The job market appears to have softened in recent months," wrote Mark Zandi, chief economist of Moody's Analytics, which produces the report with ADP. "Fiscal austerity has begun to take a toll on job creation."
The government shutdown that began Tuesday may take a heavier toll if Congress doesn't break the impasse soon—or if lawmakers don't raise the nation's borrowing limit later this month, a move that would invite economic disaster. As Patrick Clark reported yesterday, small businesses are already feeling the ripple effects of the shutdown in the form of stalled government contracts, halted Small Business Administration loan guarantees, and federal employees pulling back on spending.