Obamacare Exchanges Struggle as Lady Gaga Tweets Support
Alex Nussbaum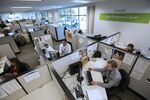 In Minnesota, John Nephew became a relative rarity this week: an American who logged onto one of the government's new online health-insurance marketplaces and exited as a satisfied customer.
Minnesota's MNSure exchange could be made easier to navigate, said Nephew, a father of three living outside St. Paul. Still, he found a health plan within five minutes that could halve his monthly premiums.
"For the moment, that's good enough for me," Nephew, 43, said by e-mail. "I now know it's worth looking at more closely, and we still have months to do that."
Nephew was in the minority of those trying to navigate the new markets, which debuted Oct. 1. For a third straight day, consumers faced long wait times and technical difficulties today, continuing the rocky start for a centerpiece of President Barack Obama's Affordable Care Act. With Lady Gaga posting her support for the exchanges to 40 million Twitter followers, the demand isn't likely to abate.
As of 11 a.m. today, the federal government's healthcare.gov site still wouldn't allow some users to create an account, the first step toward enrolling in a plan. New York State's exchange, which crashed under the weight of 10 million web visits on Oct. 1, was intermittently offline and functional. The state said yesterday it was rushing to add more capacity.
California Covered
At the same time, the Covered California site appeared to be running smoothly and other state-run markets were improving. Maryland's exchange "is up today and is fast," said Apoorva Srivastava, a worker at a Silver Spring health clinic who had struggled the previous two days to enroll patients. "The external site is working. It's great."
The stumbles threatened to sour consumers on the new markets even as the White House touted the high volumes as a sign of Americans' desire for health coverage. While the federally run sites performed better yesterday than on opening day, some users were still unable to create accounts or reach online enrollment counselors. The exchange serves Texas, Florida and 34 other states that declined to set up their own markets.
The 14 states and Washington, D.C., operating their own sites also fought through computer issues.
Delays were triggered by high volume that "reflects the extreme interest in the opening of the marketplaces and the opening of the opportunity for individuals to shop for and select affordable health insurance," Jay Carney, a White House spokesman, told reporters at a briefing yesterday.
'First-Class'
"It's a first-class problem," he said. "We are working on them to ensure that they're fixed and the process becomes more and more smooth for visitors to the website every day."
The computer troubles weren't triggered by hackers, said Matthew Prince, chief executive officer at CloudFlare Inc., a San Francisco-based company that protects websites from cyber-attacks.
While this week's breakdown fueled speculation among programmers, "I haven't seen anything that makes me think it was an attack," Prince said in an e-mail. "My hunch is this was servers falling over due to a lot of interest and press coverage."
While the exchanges were deluged with visits, it was unclear how many people actually bought insurance. The Obama administration declined to say how many people signed up. Consumers have until Dec. 15 to enroll in plans that take effect Jan. 1.
Republican Ammunition
California's exchange, which has performed better than the U.S. website, saw 515,000 unique visitors on Oct. 1 and 19,000 contacts to its call-in center, said Angie Blanchette, a spokeswoman.
The difficulties with the online markets gave new ammunition to Republicans who say the law enacted in 2010 doesn't work, even as they clashed with Obama over the first partial government shutdown in 17 years.
Republican lawmakers, who've resisted appeals to increase funding for the law, called for a one-year delay. Americans "don't want the glitch-filled, job-crushing health-care law known as Obamacare," U.S. Representative Jim Gerlach, a Pennsylvania Republican, said yesterday in a statement.
The federally run exchange received 4.7 million unique visits in its first 24 hours, the U.S. Department of Health and Human Services said yesterday in a statement. A federal call center received more than 190,000 calls.
48 Million
The Twitter message from singer Lady Gaga was part of a social-media campaign encouraged by the White House, which is trying to attract young and healthy enrollees to the exchanges. Rapper Pharrell Williams, "Hunger Games" actress Elizabeth Banks and comedian Sarah Silverman also used social media to urge followers to check out healthcare.gov yesterday.
The exchanges are designed to provide health plans for some of the 48 million uninsured Americans. The websites are supposed to help consumers access federal subsidies and choose from a menu of private insurance plans that take effect next year, when the law requires all Americans to obtain insurance.
The administration is seeking to get about 7 million people to buy policies through the exchanges in the open enrollment period that runs through March. The law also allows states to expand the Medicaid program for lower-income patients.
In Maryland, Srivastava had been trained by the state as a navigator, a counselor hired to guide people through enrollment. Yesterday, the state site was so busy she couldn't enroll anyone she spoke with at the Community Clinic Inc. in Silver Spring, Srivastava said in a phone interview yesterday. Instead, she took paper applications and made appointments with Maryland residents in hopes of following up later.
Obama's Number
In Norwalk, Connecticut, actress Kelly Barrett found the state's site frozen. On television, she saw the president recommend Americans try a call-in line instead.
"When I called the phone number Obama gave in his speech they said I have to call back," said Barrett, 36, who's uninsured.
Not everyone found their path blocked. Nephew, the Minnesota man, was able to access his state's exchange, surf a menu of insurance plans and download coverage details from one. He was shopping for himself and workers at his company, Atlas Games, a publisher of board and table-top games.
On MNSure, he found a plan with a $4,000 yearly deductible that would cost roughly $840 a month for his family of five, both improvements over his current coverage.
"People have no idea," Nephew said. "The reason small businesses don't provide people insurance is because you can easily spend as much on insurance as you do on wages. The current system is messed up."
Overwhelming Interest
While most of the 14 state-run sites were accessible yesterday, New York's website was unavailable at times, its homepage replaced with a message that cited "overwhelming interest." The state's exchange received about 30 million visits and its customer representatives answered questions from more than 9,000 people, Donna Frescatore, executive director of the state exchange, said in a statement.
"New York's website is experiencing significant levels of activity, which is causing some users to experience difficulty entering the site and delays in application processing," Frescatore said. "In response to these issues, our technicians have doubled the site's capacity and are working around the clock to troubleshoot emerging problems and ensure users have a better experience going forward."
Before it's here, it's on the Bloomberg Terminal.
LEARN MORE