New Wake Forest B-School Building Has a Living Room Feel
Francesca Di Meglio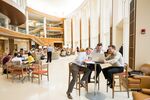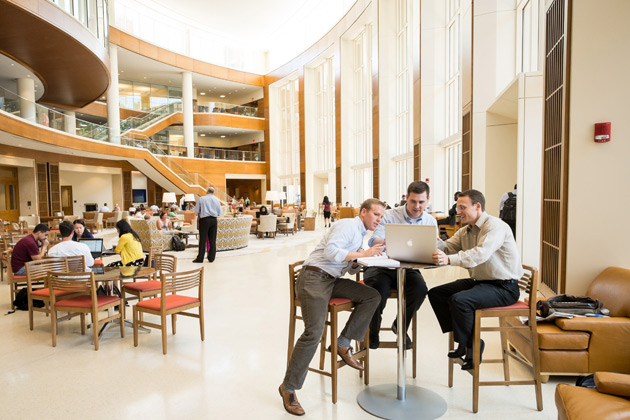 Business students at Wake Forest University have a new home designed to encourage interaction among faculty, staff, and themselves.
Farrell Hall, which was inspired in part by the Emeryville, Calif.  headquarters of Pixar, a company known for its team-focused, creative environments, was built around a "living room concept," replete with comfy chairs and couches and some modern touches reminiscent of an upscale hotel lobby. An Einstein Bros. Bagel shop on the first floor is the hub of the building, with faculty and students saying it encourages conversation and collaboration.
The three-story, 130,000-square-foot space, which gets a grand opening Nov. 1, has been occupied since July, when students in the MA in Management program arrived on campus. Construction of the $55 million building was funded in part with a $10 million pledge from Mike and Mary Farrell of Summit, N.J., parents of Michael Edward Farrell, a 2010 Wake Forest graduate.
"I'd rather be in the living room than in my office," says Derrick Boone, associate dean of the MA in Management program. "Students stop by and ask questions not only about class, but about careers, their interests, and my interests."
The building includes 18 classrooms and the 400-seat Broyhill Auditorium. It has more than 100 video screens in classrooms and student study rooms. Outside is a natural wooded area that includes rocking chairs and an outdoor fire pit for informal get togethers.
MA students are required to stay in the building from 8:30 a.m. to 5 p.m. so that their schedule simulates an actual job. Julianna Nunnenkamp, an MA student in the Class of 2014, says the new facilities make it easy to pass the time and get work done with teammates.
She cites the study rooms, which have one desk with a single monitor surrounded by chairs, as an example of how the space fosters collaboration. "This setup forces everyone to face each other and encourages communication through proximity and shared resources," Nunnenkamp says.
To determine if the new space lives up to its billing and improves teamwork skills, Wake Forest plans to compare student assessments before they start their programs and after they finish, says school spokesperson Stephanie Skordas.
Join the discussion on the Bloomberg Businessweek Business School Forum, visit us on Facebook, and follow @BWbschools on Twitter.