Mercedes's Lower-Priced Sedan Draws Luxury Buyers on a Budget
by
Mercedes-Benz, already a nose ahead of BMW in the U.S. luxury race, just got a turbo boost from its new uber-cheap sedan.
U.S. buyers snapped up 2,300 of Daimler's new Mercedes CLA compacts in the model's first week at U.S. dealerships. If it keep up the pace established in its September debut, the CLA will zoom right by every other class at Mercedes—the "sporty" C, the high-end E, and the M-class SUVs—with a starting price under $30,000, a threshold the German luxury brand has never before breached in the U.S.
BMW's closest model match, the 1-series, posted a 9.1 percent decline in U.S. sales last month with just 468 of the cars moving off dealership lots. That model starts at around $31,000.
"We weren't sure how luxury buyers would react," Alec Gutierrez, an analyst for Kelley Blue Book, told Bloomberg. "Through one week, it looks like they're scooping it up."
Downshifting into a more affordable market is a tricky proposition for a luxury car company. The move has the potential to smudge a pristine brand and put off blue-chip buyers. On the upside, if an opulent automaker can win younger, less-affluent buyers, it has a better chance of keeping them when they climb the corporate ladder or sell the startup and go shopping for a six-figure sedan with thermal cameras and perfumed air filtration.
With the CLA, Mercedes is betting the risk is worth the reward. Mercedes spokesman Rob Moran called it the company's "most important car" at the moment, a priority evident in the company's big Super Bowl ad featuring Kate Upton and Usher.
The company's car sales were up 6.7 percent in September and 12.2 percent in the first nine months of this year. And thanks largely to its discount sedan, Mercedes maintains about a 2,500 vehicle lead over BMW, which has sold the most luxury vehicles in the U.S. for two years running. Toyota's Lexus is now a distant No. 3, while General Motor's Cadillac is far back but coming on strong. The brand has posted a 29 percent sales increase in the U.S. this year to date.
Here's a look at how the U.S. luxury race has panned out in the past two years: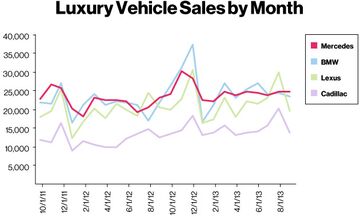 Before it's here, it's on the Bloomberg Terminal.
LEARN MORE