Manhattan U.S. Attorney's Office Is 'a Mess' Over the Shutdown
By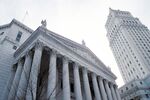 Insider traders and criminals in general got some good news today: Prosecutions in the Southern District of New York have been sent into disarray by the government shutdown.
"From our perspective, it's a mess," Lorin Reisner, chief of the Criminal Division at the Manhattan U.S. Attorney's Office, said during a panel this morning. "We have 10 trials going on in the Criminal Division, and I spent half of yesterday making sure the paralegals who are working on those cases can continue working on those cases, or that we have others who can assist with those trials." Most of the criminal prosecutors themselves are exempt from the shutdown, he added, but: "It's been quite a mess from an administrative and support staff perspective."
Reisner was appearing at a seminar titled White Collar Crime 2013: Prosecutors and Regulators Speak, an annual ritual in which defense lawyers and others convene to ask government officials how to protect their clients from being accused of insider trading—something which has proved maddeningly difficult of late.
During an opening speech, Andrew Ceresney, co-director of the Securities and Exchange Commission's Division of Enforcement, said that establishing credibility is the most important thing for defense lawyers to do when approaching his office on behalf of a client who might be a target of an investigation. "Tone is also very important in these meetings. Being very dismissive towards the staff is not an effective way to behave and will just cause the enforcement staff to become defensive," he said. "Less aggressive and more reasoned is much more likely to resonate with me, and the meeting won't just be a slugfest." Ceresney said he was sympathetic to the other side, as he was previously a defense lawyer, when he regularly had his "kneepads on."
"The Enforcement Division is becoming more aggressive," he added. "I like to say the SEC is back and better than ever."
Reisner also chimed in with his own suggestions for showing the proper deference to criminal prosecutors: "I can't tell you the number of meetings I go into where a defense lawyer says, 'Your office is going to really be embarrassed if you bring this case.' That's really not effective."
"No company is too big to prosecute, to be held accountable," he added. "We won't shy away from charging companies where it's appropriate. If you look at some of our recent cases, we've done both."
Before it's here, it's on the Bloomberg Terminal.
LEARN MORE