It's Cheaper to Buy Empire State Building Shares Than to Visit
by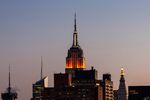 The Empire State Building has moved to Wall Street in a decidedly humdrum initial public offering, and now it's more far cheaper to own a tiny slice of the iconic skyscraper than it is to spend an hour on the 102nd-floor observation deck.
Shares of the Empire State Realty Trust (ESRT), which owns the iconic tower and 20 other New York buildings, sold for $13 each in a stock offering that raised nearly $930 billion. The deal ends a long saga of litigation and a rash of offers to buy the building outright. But the real estate company and its bankers were hoping for more—up to $15 a share—according to their early filings with the U.S. Securities and Exchange Commission, making the more modest price something of a disappointment.
Shares in the real estate investment trust climbed slightly to 13.36 by mid-morning Wednesday in initial trading. A trip to the top of the Empire State Building, meanwhile, will set you back $44. Here are additional ways to spend about $13 for an authentic piece of New York:
• Two bowls of clam chowder at the Grand Central Oyster Bar
• A car trip through the Holland Tunnel
• One-third of a pound of Gaspe Nova Smoked Salmon at Russ & Daughters
• Ninety minutes on Citi Bike, the city's new bike-share system
Before it's here, it's on the Bloomberg Terminal.
LEARN MORE