IPad Prices Jumping 12% on Rupiah Show Inflation Pressure
Novrida Manurung and Neil Chatterjee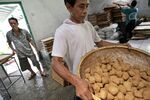 The rupiah's slump is fueling a surge in Indonesia's costs of imported goods from iPads to soybeans, spurring Southeast Asia's fastest inflation and increasing growth risks ahead of elections next year.
The cost of iPads jumped 12 percent last month, according to a price list at Indonesia's leading Apple Inc. retailer iBox. Tofu makers in the world's fourth-most populous nation went on strike in September as imported soybeans climbed 12 percent this year, according to data from the trade ministry.
"It has raised the cost of production, so we can't avoid raising prices," said Adhi Siswaja Lukman, chairman of the industry lobby group Indonesian Food and Beverage Association. The group is cutting its sales-growth target for this year to 5 percent from 8 percent previously, he said.
The currency's 14 percent decline in the last three months adds escalating import costs to increased fuel tariffs and interest rates, triggering higher retail prices for consumers. An inflation rate more than three times the pace at the last vote highlights the challenge for President Susilo Bambang Yudhoyono's coalition government in a nation where riots spurred by soaring prices helped oust dictator Suharto in 1998.
"Opposition parties will look to use this as a measure to increase their popularity," said Shaun Levine, senior Asia analyst at Eurasia Group in Washington. "The coalition is pretty much dead in the water."
Import Quotas
The government has tried to curb food-price pressure by scrapping import quotas for items such as beef and soybeans, as Yudhoyono attempts to shore up a two-term legacy of economic stability that led to an investment-grade sovereign rating. Rival economies are gaining favor, with the Philippines winning a rating upgrade from Moody's Investors Service today, completing the nation's ascent to investment rank.
Indonesia's inflation eased to 8.4 percent in September from a year earlier after reaching 8.8 percent in August, data showed this week. That compared to a rate of 2.7 percent at the last election in July 2009, according to data compiled by Bloomberg.
Yudhoyono's Democrat Party and its presidential candidates, including Trade Minister Gita Wirjawan, who will be selected through an American Idol-style popularity contest in coming months, will be hurt most by higher inflation, said Levine.
The main opposition Indonesian Democratic Party of Struggle, or PDI-P, has criticized the administration's trade policies that led to a record deficit of $2.3 billion in July. It also voted against raising subsidized gasoline prices by 44 percent in June, saying it would hurt the country's poor.
A survey by Kompas newspaper showed 32.5 percent of respondents would pick PDI-P member and current Jakarta Governor Joko Widodo as president, more than any other candidate, the paper reported in August.
Rupiah Slump
The rupiah was the worst performer among 24 emerging-market currencies tracked by Bloomberg in the third quarter. Memories of 1997, when capital outflows led to a collapse in the currency, a surge in bad debt and protests over rising prices, are still in people's minds, said Hal Hill, a professor of Southeast Asian economies at Australian National University in Canberra.
"In principle, a weaker rupiah is good for Indonesia, but there's just that nervousness in case it presages a run," said Hill, who advises the World Bank and Asian Development Bank.
Indonesia's reliance on imports is exacerbated by a failure to fix infrastructure gaps that prevent local food and energy products from reaching consumers in Southeast Asia's biggest economy. A toll road connecting the two main cities, Jakarta and Surabaya on Java island, is still five years from completion, said Scott Younger, a director at PT Nusantara Infrastructure.
Growth Slowing
Indonesia's economic growth is expected to slow to a four-year low of 5.8 percent this year from 6.2 percent in 2012, according to a Bloomberg survey. Gross domestic product rose 5.81 percent in the April-June period from a year earlier, after holding above 6 percent in the previous 10 quarters.
The central bank has said it doesn't want the rupiah "to be too strong" to curb demand for imports, even as inflation climbed to the highest in more than four years in August.
Bank Indonesia has raised the benchmark interest rate by 1.5 percentage points since early June, and forecasts inflation of 9 percent to 9.8 percent at the end of the year. Price gains may peak at up to 10 percent in December or January, according to Chua Hak Bin, a Singapore-based economist at Bank of America Corp. A 10 percent fall in the currency should lead to a 1.5 percent increase in consumer prices, he said.
Worker Protest
"The first leg-up was from higher fuel prices," said Chua. "The next leg-up in inflation will come from the weaker rupiah. The government will have to negotiate hard to avoid a wage-price spiral, all the more difficult as key leaders do not want to hurt their odds going into the elections next year."
Thousands of workers rallied in Jakarta last month to demand that wages be raised by 50 percent next year. They rejected a government proposal to cap wage gains at 10 percentage points above inflation, and plan more protests, the Confederation of Indonesian Labor Unions said in September.
Syafulloh, a 55-year-old fruit seller at a Jakarta market, said he is struggling to buy goods, with the price of mangoes surging by as much as two-thirds this week on higher transport costs. While he used to give his wife 30,000 rupiah ($2.65) a day to cook food for his four children, he now finds 50,000 rupiah is sometimes not enough.
No Money
"It's not just difficult, we're crying," said Syafulloh. "All prices are climbing, and we have no money for capital."
The weaker rupiah is also driving up raw-material costs for companies such as PT Kalbe Farma, Indonesia's largest drug maker, whose stock fell 18 percent in the third quarter on concern that the currency is affecting costs, said John Teja, a director at PT Ciptadana Securities. Instant-noodle prices have risen 7 percent this year, according to trade ministry data.
"If this were to worsen, private consumption growth will be significantly affected," said Gundy Cahyadi, an economist at DBS Group Holdings Ltd. in Singapore. "And we know that domestic consumption has been the key pillar to the economy."
Elsewhere in Asia, China's non-manufacturing purchasing managers' index climbed to 55.4 in September from a previously reported 53.9 in August. Hong Kong's retail sales probably rose in August from a year earlier, a Bloomberg survey showed.
The euro area's retail sales probably fell 1.5 percent from a year earlier in August, according to a Bloomberg survey. Initial jobless claims in the U.S. probably rose to 315,000 in the week ended Sept. 28, while the Institute for Supply Management's non-manufacturing index may have fallen to 57 in September, surveys showed.
Indonesia's retail-sales growth slowed to 9.1 percent in July from a year earlier, from 14.9 percent in June, with the decline led by food and motor vehicles, central bank data showed. Apple product prices rose at least 10 percent last month, said Djatmiko Wardoyo, director of marketing at PT Erajaya Swasembada, which operates iBox retail stores.
"When not only electronics prices increase but also foodstuffs such as soybean, people will hold back their spending," said Wardoyo.
Before it's here, it's on the Bloomberg Terminal.
LEARN MORE