Convenience Stores Want Your Fast-Food Dollars
By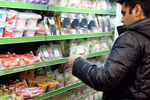 An English-muffin breakfast sandwich from 7-Eleven might not have the scrumptious, familiar ring of the Egg McMuffin, but it does the trick as a McDonald's substitute. For fast-food restaurants, convenience stores are increasingly part of the competition vying for value-oriented customers, with food that's awfully similar.
C-stores have been focusing on prepared foods like sandwiches and hot dogs—rather than the usual packaged fare—to make up for lost cigarette sales in the U.S. Now there are pizzas, made-to-order sandwiches, and coffee bars at Casey's General Store and apple walnut chicken salad and chicken tenders at 7-Eleven. Food service sales at convenience stores rose 7.6 percent in 2012, to $27.6 billion, according to Convenience Store News.
For Wendy's executives, it's like being flanked on both sides. "We've got competition above us" from casual dining restaurants, former Wendy's CFO Stephen Hare said at a conference earlier this year, "and then you've got this emerging convenience store group that are pulling away at the lower-end customers." He called the competitive environment "as intense as we've ever seen it."
Three key factors are shaping the battle between fast-food eateries and convenience stores, according to a recent report by our colleagues at Bloomberg Industries:
• Convenience stores are going after the same core demographic as quick-service chains: households with income below $50,000.
• Sandwiches and hot dogs are the largest sources of food revenue for C-stores. Pizza, which has low entry costs, is the third-largest source of food revenue at convenience stores and saw sales climb 9.6 percent last year—adding competition to Domino's and Papa John's.
• Fresh food has increased traffic and brought new customers to C-stores, particularly female and older shoppers. As it stands, classic convenience store customers tend to be men ages 18 to 30 looking to buy cigarettes, coffee, beer, and lottery tickets.