Will Manufacturing Growth Finally Translate Into Jobs?
By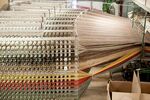 This morning we got more good news from the U.S. manufacturing sector, which expanded last month at its fastest pace in more than two years. The Institute for Supply Management's Purchasing Managers' Index (PMI), a much-watched proxy for manufacturing activity, hit 56.2 in September, the third month in a row that it has come in above economists' expectations. Anything above 50 on the ISM is considered growth.
What would seem to be the best part of the report was that the employment index, which measures hiring expectations, hit a 15-month high. So not only are factories seeing more demand, they might actually hire some workers, too. According to Amna Asaf from Capital Economics, an employment index so high typically translates into an increase of about 20,000 new manufacturing jobs on the monthly payrolls report.
Still, that channel of growth leading to jobs seems to be broken somewhat when it comes to manufacturing. Sure, the sector has created some 500,000 jobs since the recession ended, but most of those jobs were added in 2010 and 2011. Employment in manufacturing has basically been flat since April 2012. Despite the decent growth we've seen in manufacturing activity, especially over the last four months, there are only about 20,000 more manufacturing jobs in the U.S. than there were a year ago.
Maybe this is the month when some of that hiring catches up to the increase in activity that factories have been seeing, but it doesn't look as if we'll find out on Friday. If the government stays shut down, the U.S. Bureau of Labor Statistics won't be able to produce the September jobs report.