On Common Ground: Pelosi and Cruz, Get to Work
By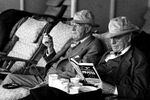 This NRRI analysis shows that, as of 2010, more than half of today's households will not have enough retirement income to maintain their pre-retirement standard of living even if interest rates rise substantially above their current low. Households are less vulnerable than expected to today's historically low interest rates, but higher interest rates would also provide no real cure to the problem of inadequate retirement saving.
—Alicia H. Munnell, Anthony Webb, and Rebecca Cannon Fraenkel, The Impact of Interest Rates on the National Retirement Risk Index, Center for Retirement Research at Boston College, June 2013
"… No real cure."
If it ain't broke, don't fix it suggests: If it's broke, fix it.
We have a broken retirement system. Look no further than Alicia Munnell's jaw-dropping competency for the Society of Jesus.
The above jewel comes from a brilliant five-page essay. It describes with Jesuit terseness that we are nowhere when considering retirement.
The center tendency is that 55 percent of those 40-49 are at risk of not affording greens fees in retirement. A stunning 44 percent fail, only a decade or so from a reduced work week.
We are in no position to reduce the work week.
The "Haves" enjoy 28 percent financial assets (a combined 401(k), IRA, other assets calculation). The middle sees a collapse to 10 percent—shockingly too near the "Have-Nots," at 3 percent.
This must stop, for our individual good and the national good.
It is a month of shutdown and debt-ceiling debate in fair Washington. Let's find something Nancy Pelosi and Ted Cruz can agree on. (The former speaker of the house has a treasured pen from the signing of the Affordable Care Act; the senator from Texas would like to rip it out of her clenched hand.)
There may be "no real cure" for this American political moment. There is a cure needed—and now—for an over-quarter-century retirement-policy failure.
Read Munnell. Retirement Nation can't retire. Pelosi and Cruz find a common ground. Get to work.
Discuss.