Nigeria's Jonathan Urges Unity Against Militants' 'Barbarism'
Elisha Bala-Gbogbo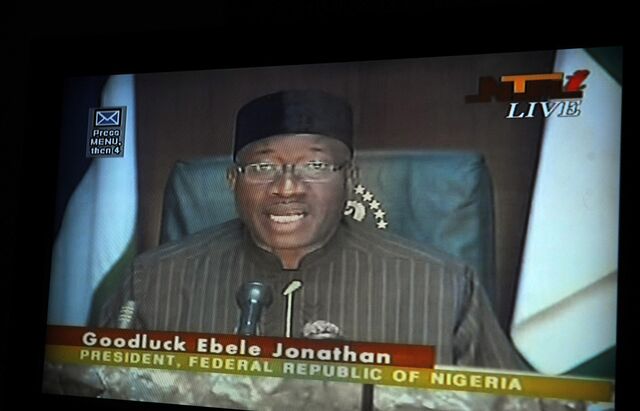 President Goodluck Jonathan urged Nigerians to overcome their ethnic and religious divisions to confront Islamist militants guilty of "barbarism" in their attacks on civilians.
"I admit that these may not be the best of times for our nation," Jonathan said in a televised speech to mark Nigeria's 53rd year of independence from the U.K. "Our people are divided in many ways -– ethnically, religiously, politically, and materially. I cannot hide from this reality."
He spoke after new attacks by Boko Haram, the Islamist militant group that has killed thousands of people in its four-year-old campaign to establish Shariah law in Africa's biggest oil producer. Nigeria's population of 160 million has more than 300 ethnic groups and is roughly divided between a predominantly Muslim north and mainly Christian south.
In their latest raid, the insurgents killed as many as 50 students at an agricultural college in the northeastern state of Yobe on Sept. 29.
"This act of barbarism is a demonstration of the extent to which evil forces will go to destabilize our nation," said Jonathan, who declared a state of emergency in three northeastern states in May. "But I assure you, they will not succeed."
Nigeria also faces a renewed threat of violence in the oil-rich Niger River delta after the main militant group in the area, the Movement for the Emancipation of the Niger Delta, said in April it would resume attacks on industry facilities.
Attacks including kidnappings and bombing of oil installations by groups including MEND cut more than 28 percent of Nigeria's oil output between 2006 and 2009, according to data compiled by Bloomberg. The violence declined after thousands of fighters accepted a government amnesty offer in 2009 and disarmed.
'National Dialogue'
The government will set up a committee to make plans to hold a "national dialogue" on the country's divisions, with the body's report to be ready within a month, Jonathan said.
His ruling People's Democratic Party has split over Jonathan's possible candidacy for re-election in 2015.
Dozens of lawmakers have lent support to the defectors from the party, sparking televised arguments and fights in both houses of parliament on Sept. 17. The rebels, led by former Vice President Abubakar Atiku, walked out of an Aug. 31 PDP convention to form the New PDP.
The defectors are demanding that Jonathan, a southern Christian, announce that he won't run in 2015, respecting an unwritten rule in the party to rotate the presidency between the north and south.
"This is no time for the harmful clutches of parochial sentiments and the politics of bitterness, impunity, arrogance and unhelpful indiscipline," Jonathan said. "We must stand as one, with absolute commitment and resolve to resist any force that threatens us and the sanctity of our union."
Before it's here, it's on the Bloomberg Terminal.
LEARN MORE