Merck's Big Bet on R&D Founders, and 8,500 Job Cuts Ensue
By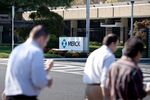 Executives at Merck (MRK) announced today that the second-largest U.S. drugmaker will fire 8,500 workers, as part of a broader effort to save $1 billion next year. The move reflects a tacit admission by the company that Chief Executive Officer Ken Frazier's big bet on research and development in recent years has failed to pay off.
In December 2011, Frazier made headlines when he stated publicly that he had no plans to follow rival Pfizer, which at the time was moving aggressively to slash a couple billion dollars from its spending on R&D. Investing in innovation, he argued, was the key to creating long-term sustainable value for shareholders.
"The problem with R&D is it's not always consistent," Frazier said during a Wall Street Journal breakfast in 2011. "It's not like engineering where you can incrementally innovate and make another version of the iPhone. … If you look in the past, there have been other fallow periods for R&D, but over the long-term science has always made progress."
Unfortunately for Merck employees, that progress didn't come soon enough.
"Tuesday's announcement follows a series of major research setbacks in the company's late-stage clinical pipeline that had analysts to question Merck's direction," reports the New York Times. "A week ago, the Food and Drug Administration rejected its application for an anticipated anesthesia drug, sugammadex, citing concerns about a hypersensitivity study in patients, and earlier this year the agency rejected an application for a new sleep drug, suvorexant."
In a statement this morning, the company said it anticipates the cuts will impact marketing, administration—and R&D.
"These actions will make Merck a more competitive company, better positioned to drive innovation and to more effectively commercialize medicines and vaccines for the people who need them," said Frazier.