You Can Pick Up This Guy at Auction. But Wouldn't an Armoire Be More Useful?
by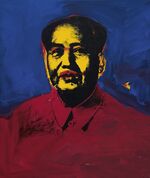 Headlines about art auctions mostly trumpet sales in the millions . But spend enough time looking through the auction catalogs and you'll be treated to something very different. Knickknacks.
Auction houses don't love to advertise that they're selling tchotchkes, but it's a necessary part of the business. Often, to get an estate that includes a valuable painting or piece of furniture, they have to agree to take what in collectors' minds might be less desirable pieces -- a silk couch, a set of silver flatware, or other, vaguely valuable things.
"It happens quite frequently," says Bloomberg's Katya Kazakina,who reports on the art market . "I remember when in 2006 Christie's sold hundreds of items from the Plaza Hotel after it closed. [It reopened in 2008.] It was like a glorified garage sale, with door knobs and bar stools." She adds that "people loved it, because there was history and provenance."
Provenance, yes. But people also love those sales because when it comes to interior decoration, the secondary market is much cheaper than retail. Doyle New York , a genteel auction house on Park Avenue better known for its silver flatware than for blockbuster contemporary art sales, is probably the best-known purveyor of random, if rarefied, objects. In its Doyle at Home auctions, the average lot estimate is around $600 to $650, says Louis Webre, a senior vice president at the auction house. "As a consequence, they're a popular category not only among collectors, but also interior decorators," he says.
In other words, they're a hit with people who have the time to stake out the auctions and wait around at midday to bid on a couch. That level of self-selection among bidders is another reason interiors sales stay so cheap. People don't know they exist.
"I think it's just not something people are used to," says Anna Hicks, the specialist in charge of Doyle at Home. "It's a bit risky. You might be bidding against someone, or you have to wait for a lot to come up. For a younger generation, it's not necessarily easy."
Then again, a younger generation with a limited budget is just the demographic that could benefit from a good bargain. "It's surprising what you can get a great deal on," Hicks says, citing armoires, dining chairs and tables, and stemware as reliably good buys. "If you wanted an entire silver flatware service," she says, "you're going to save a ton of money."
It comes down to a question of time and energy. If you have little of either, Crate & Barrel is unbeatable. But if you've got some time, wait until Christie's New York interiors auction on October 1st, or Doyle's auction on December 4th. At Christie's, a pair of beige silk sofas is estimated to sell for $1,500, to $2,000. That's half the price of a single, polyester couch from West Elm .
James Tarmy reports on arts and culture for Bloomberg Muse, the arts and leisure section of Bloomberg News.
Before it's here, it's on the Bloomberg Terminal.
LEARN MORE