Metallica Tries to Keep Up With Boy Bands at the Box Office
by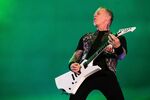 Concert movies, including last month's One Direction: This Is Us, have experienced a real resurgence at the box office over the past few years, fueled in part by their appeal to a young, female, and heavily connected fans. Needless to say, a typical Metallica fan is just about the complete opposite of, say, One Direction and Justin Bieber devotees.
So how did this weekend's release of Metallica Through the Never on some 300 screens fare at the music-hungry box office? Respectably. The film scored about $1.7 million in total, for a $5,429 per-screen average. That's comparable to This is Us's $5,783 average, even if Metallica should have had an edge because of its exclusive release on more expensive IMAX and 3D screens. Plus, the Metallica movie opened in far fewer theaters than the boy band's film, which usually creates more demand per screen.
The marketing for Metallica Through the Never made a point of emphasizing the non-concert elements. Posters and trailers made it clear that this wasn't just a movie about four guys performing songs but also a narrative about a young roadie (played by Dane DeHaan) who experiences a series of surreal, violent, and very "metal" incidents over the course of an unusual evening. Whether that narrative element helped or hurt the film's prospects is hard to tell—but it did probably push up production costs. Through the Never's $18 million price tag, though not particularly high, exceeds the $10 million budget for This is Us or the $13 million spent on Justin Bieber: Never Say Never

Still, with good reviews, the metal movie could prove to have better legs. Metallica's audience is a surprisingly resilient one; the band has broadened its fanbase beyond Generation X over the years by regularly updating its sound, and it remains a huge international draw. The film doesn't actually expand to more theaters until later this week, and the strategy of opening Through the Never exclusively on 300 IMAX screens in advance was probably a smart one. It will have competition this coming week from Alfonso Cuaron's Gravity, whose reportedly revolutionary 3D effects will no doubt be a key selling point. "Considering how few movies have attempted this sort of release," wrote BoxOfficeMojo.com, "it's hard to tell what Metallica's long-term prospects are."
Before it's here, it's on the Bloomberg Terminal.
LEARN MORE