Is There a Silver Lining to the Government Shutdown?
by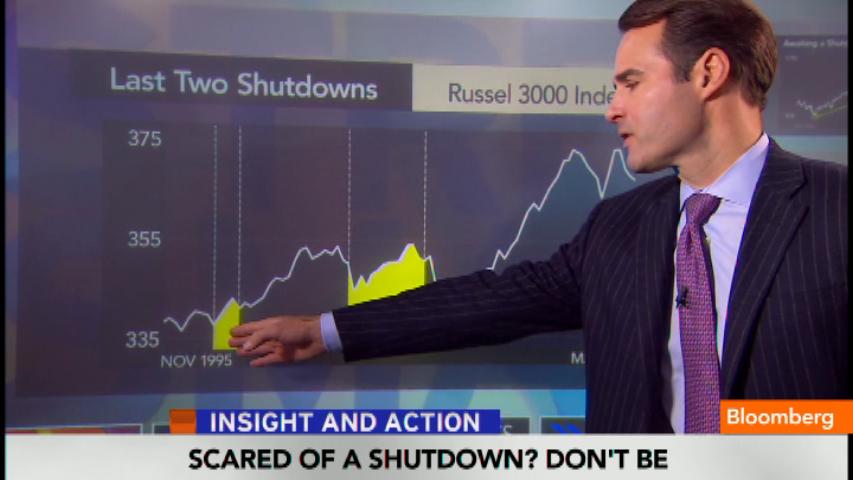 "History doesn't repeat itself, but it does rhyme."
--Mark Twain, Author
Budgetary impasses have shuttered the U.S. Federal government 17 times in the past, for a total of 110 days. The most recent episode involved two back-to-back shutdowns for 26 days starting in late 1995. Then, as now:
--A Democrat was president (Clinton)
--Republicans controlled the House
--Deficits and unemployment we falling, albeit from lower levels
--GDP was growing less than 3 percent a year
As politicians rant, take heart in recalling how markets barely declined during the 26-day Clinton impasse, and even managed to rally:

The market response this time around seems equally measured: stocks this morning opened down less than 1 percent and are still hovering near all-time-highs. Looking at the charts, the Russell 3000 Index is about 2 percent above its one-year trend line.

So, today we're thinking about a shopping list of companies to buy if and as prices decline, believing history will indeed "rhyme" and markets will recover. We screened the Russell 3000 according to three criteria:

Thirty-four companies made the cut, which is impressive considering I set a very high bar for growth (30 percent higher cash flow this year, 30 percent higher earnings estimates next year). We featured the ten most familiar companies on-air:

For the benefit of blog readers, here are the other 24: Acadia Healthcare Co. (ACHC ), Akorn Inc. (AKRX ), The Andersons Inc. (ANDE ), Astronics Corp.(ATRO ), Bonanza Creek Energy Inc. (BCEI ), Chart Industries Inc. (GTLS ), Continental Resources Inc. (), Envestnet Inc. ( ENV), Finisar Corp. ( FNSR) , FMC Technologies Inc. (FTI ), Fortune Brands & Security Inc. (FBHS), GasLog Ltd. ( GLOG ), Gulfmark Offshore Inc. (GLF ), Healthways Inc. (HWAY ), K12 Inc. (LRN ), Kodiak Oil & Gas Corp. (KOG ), Oasis Petroleum Inc. (OAS ), Rex Energy Corp.(REXX ), Sanchez Energy Corp. (SN ), Synergy Resources (SYRG ), Tidewater Inc. (TDW ), 3D Systems Corp. (DDD ), Ultimate Software Group (ULTI ), Universal Display Corp. (OLED ), Zale Corp. (ZLC ).
Before it's here, it's on the Bloomberg Terminal.
LEARN MORE