Is Nestlé Losing Its Appetite for PowerBar?
by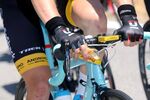 Nestlé is responding to several straight quarters of disappointment by trying to figure out which of its 8,000 brands are no longer making the cut, and PowerBar just might be one of the first to go.
PowerBar's red-and-yellow logo with its fuel-for-bodybuilders vibe remains a fixture in supermarkets, drug stores, and nutrition stores. It remains the world's best-selling energy and nutrition bar, according to data from Euromonitor International, and the category is growing as consumers seek healthy, on-the-go foods. Yet in the U.S., Powerbar's main market, other brands have been stealing share. Retail sales of Clif Bars in the U.S. exceeded PowerBar for the first time in 2012, and other rising rivals include Kellogg's Special K bars, General Mills' LaraBar, and Clif's Luna Bar line.
Despite PowerBar's hefty weight in the snack bar market, it remains a small brand for Nestlé. The bars, gels, and drinks sold under the moniker generate about $175 million in revenue for the food company, according to Reuters. That's just 1.7 percent of the $10.4 billion that Nestlé's nutritional division made last year, based on sales data compiled by Bloomberg.
Nestlé declined to comment on "market rumors" triggered by the Reuters story.  
The marketing of PowerBar has been somewhat inconsistent: A product for athletes back when Nestlé bought the company in 2000, the item then morphed into a tasty snack before once again being pitched to sports and fitness buffs. As Nestlé Nutrition's former chief executive, Richard Laube, explained during an investor meeting in 2010, when PowerBar represented about 3 percent of division sales:
Initially, it was thought to be a nutritional snack. It was acquired as a nutrition-before-marathons, and it was driven to athletes and the early years of the acquisition had made it more broadly available. We had introduced items that were tasting a little bit like a Mars candy bar. We had dealt and competed against Granola bars and so the strategy was to broaden the consumer base which had some success, but we've led—led us into a dead end at about 2004 and 2005.

We have regrouped the brand and we are dealing now with athletes in helping them to perform better. If you want—or if you're not an athlete and would like to enjoy a PowerBar, go ahead, we're not stopping you, but it's not the target group. So we've refocused the business and haven taken our pains to do that. It is an area which is growing rapidly and there are several segments of it, in particular, with the protein space for team sports recovery. I don't want to say body building, but there is a fitness culture that's emerging where a number of brands around the world are well placed.
While Nestlé was figuring it out, consumers were offered other options. Now it might be up to another owner to settle on a new identity for PowerBar.
Before it's here, it's on the Bloomberg Terminal.
LEARN MORE