business
Home Depot Found a Way to Plug a Huge Hole in Its Business Model
By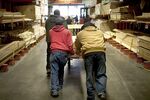 Home Depot does a brisk business with professional tradesmen, and it built a huge market of do-it-yourselfers. Now it's targeting everyone in between.
The company is quickly expanding Redbeacon, a free online service that helps people find painters, plumbers, maids, and other small-project professionals. The business was founded by three Google refugees five years ago. This week Home Depot, which bought it in early 2012 for an undisclosed sum, is pushing Redbeacon into six new states—Oregon, Washington, Idaho, Utah, Montana, and Alaska—bringing its tally to 11.
Redbeacon says its value lies in going a step beyond traditional online referral and rating services. Contractors pay $30 a month to be on its radar, and it screens them by collecting reviews and doing background checks. When customers need something done, Redbeacon rounds up a batch of bids and even helps schedule the service.
The real genius of the company, however, is its simple and sleek price-estimating tool. Home Depot became a giant retailer by helping handy consumers find the right stuff for a project. Redbeacon's potential lies in helping less-handy consumers figure out what a project might cost.
Door installation is a great example. Anyone who doesn't know how to install a door himself likely has no idea what the project involves. Until now, the options were, at best, to find a couple of handymen with good online reviews and drum up a few competing quotes.
Redbeacon cuts out a big chunk of that work with a series of online questions. How many doors are involved? What type of doors are they? Interior or exterior? Zip Code? At each step, it updates a chart of thousands of price quotes to detail a range of expected bids, from low to high. Replacing a regular interior door, for example, should run between $97 and $318, depending on where you live.
This is going to be well received by slews of people who need new doors. What Home Depot is betting on, however, is that it will also be a hit with folks who never really thought about new doors but wouldn't mind spending a few hundred bucks to spruce theirs up. Or people who want new doors but never wanted to go through the hassle of figuring out what the project might cost.
Home Depot gets 35 percent of its sales from contractors and the rest from DIYers. But if Redbeacon really takes off, it may soon have to break out revenue for a third group of customers.
Before it's here, it's on the Bloomberg Terminal.
LEARN MORE