Five B-School Profs Face Suspensions for 'War' on Opponents
Louis Lavelle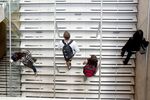 Five tenured professors at a Canadian business school face "lengthy" suspensions for retaliating against less senior faculty because of their perceived allegiance to a top administrator.
After more than two years of work, a tribunal at McMaster University last week ruled that the professors at the DeGroote School of Business "harassed, intimidated or retaliated against" the less senior faculty, creating a "poisoned" work atmosphere and violating the school's anti-discrimination policy. The professors were not identified.
In the 26-page report (pdf), the tribunal said the motive for the professors' behavior was their opposition to a senior administrator and the less senior faculty's perceived support for that person. The professors, who participated in tenure and promotion decisions, in e-mail exchanges among themselves offered "grossly inaccurate" assessments of the less senior faculty, the report says.
"The group effectively declared 'war' as evidenced by the communications and behaviors of certain members of the group," wrote Maureen MacDonald, who chaired the tribunal and authored the report. "Ensuring that perceived supporters of the senior administrator would not feel welcomed or progress in their careers … became an acceptable strategy without any evidence of dissent from members of the group."
The tribunal, which reviewed nearly 15,000 pages of documents and heard testimony from 65 witnesses, said it "seriously considered" permanent removal of some individuals from the faculty but ultimately decided against it.
In a Sept. 27 statement, McMaster President Patrick Deane said he has begun implementing the report's recommendations, including the sanctions against the professors. "The types of behavior described in the tribunal's report have no place on our campus," he said. The school did not disclose the length of the suspensions.
Join the discussion on the Bloomberg Businessweek Business School Forum, visit us on Facebook, and follow @BWbschools on Twitter.
Before it's here, it's on the Bloomberg Terminal.
LEARN MORE