Did Dr. Dre Underprice His Beats in the Carlyle Deal?
by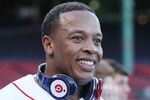 Carlyle Group is bumping. The private-equity giant agreed last week to fork over $500 million for a piece of Beats Electronics, the headphone maker founded by music mogul Jimmy Iovine and hip-hop legend Dr. Dre. Building a consumer electronics giant from scratch and putting a beat-down on established audio companies such as Bose, apparently, is nothing but a "G thang."
Although neither company is saying exactly how much of Beats is changing hands, the deal values the headphone maker at "more than $1 billion," according to the Wall Street Journal. If the valuation isn't significantly higher than $1 billion, Carlyle might have scored a bargain.
As a private company, Beats doesn't reveal its profit. But the company has said annual sales are now around $1 billion, and a hot company in consumer electronics is typically worth much more than a year of revenue. Apple, for example, is trading at almost three times its most recent 12-month sales figure, Texas Instruments has a market value almost four times its sales, and Samsung is worth roughly 1.3 times its yearly revenue.
What's more, Beats has been on an incredible tear for a five-year-old company. Its sales have increased five-fold since 2010 and it now commands almost two-thirds of the market for high-end headphones, according to NPD Group.
So why didn't Dre tell Carlyle: "Get your money right," in so many words? Beats is probably going to need all the business skills it can muster in the months ahead. The market for expensive ear-goggles is expected to cool, so Beats is trying to bolster its business in other areas, including traditional speakers, automobile sound systems, even a streaming music service. It is also angling to expand abroad.
Carlyle may not know much about bass, but it brings a lot of value to the Beats board. It also employs one of the world's greatest whistlers, so there's that.
Before it's here, it's on the Bloomberg Terminal.
LEARN MORE