House Republican Plan Increases Chances for U.S. Shutdown
Roxana Tiron, Richard Rubin and Kathleen Hunter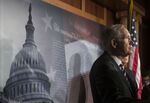 The Republican-led U.S. House is poised today to pass a plan to delay portions of Obamacare, moving toward a political collision that will probably shut down much of the government Oct. 1.
Republicans, describing the 2010 health-care law as an unacceptable risk to the country, united around a position that party leaders resisted two weeks ago. An uprising from Tea Party-backed lawmakers prompted the more hard-line stance.
The Republican plan would attach a one-year delay of Obamacare provisions and a repeal of the medical-device tax to a short-term spending bill and send it to back to the Senate, which has already declared such a plan unacceptable. The House proposal would extend government funding through Dec. 15, a month longer than the Senate plan.
"The American people don't want a government shutdown and they don't want Obamacare," House Speaker John Boehner and other Republican leaders said in a statement today. "We will do our job and send this bill over, and then it's up to the Senate to pass it and stop a government shutdown."
Republicans also plan to pass a separate bill today that would ensure U.S. troops are paid if the government shuts down. The House hasn't released the bill text or scheduled votes, which may come this evening.
Funding Lapsing
Today's developments dramatically raise the likelihood of a shutdown. Purely in terms of time, any one member can prevent the Senate from acting quickly enough to prevent a lapse in funding before midnight Sept. 30. The policy divide is also wide, because congressional Democrats and President Barack Obama say they won't accept any of the conditions Republicans are rallying around.
Budget brinkmanship has become a routine in Washington, particularly since Republicans gained control of the House in the 2010 election. A last-minute deal before midnight Sept. 30 is still achievable, and one possible move is for both houses to pass a short-term funding measure -- a few days to a week -- to keep the government open and leave more time for debate.
"That would only postpone the inevitable by one week," said Representative Lynn Westmoreland, a Georgia Republican.
The Senate yesterday passed a bill that would fund the government through Nov. 15, omitting Republican language to choke off funds for the 2010 health-care law.
Harry Reid
Senate Majority Leader Harry Reid, a Nevada Democrat, said yesterday that the Senate would reject any changes and warned that House revisions to the spending bill would lead to a shutdown. That view was repeated today by a Senate Democratic aide who spoke on condition of anonymity.
"Let's keep this government running," Democratic Senator Mark Begich of Alaska, who is up for re-election in 2014, said yesterday. "I mean, look at the markets the last few days. The shenanigans they're playing are causing the markets to falter and that's bad for the economy and bad for jobs."
Concerns that the budget impasse will hurt economic growth helped push the Standard & Poor's 500 Index to its first weekly decline since August. The index fell 0.4 percent to 1,691.75 yesterday, and dropped 1.1 percent for the week. The rate on 10-year Treasury notes fell three basis points to 2.62 percent yesterday.
A shutdown could reduce fourth-quarter economic growth by as much as 1.4 percentage points, depending on its duration, according to economists. The biggest effect would come from the output lost from furloughed workers.
Sharp Turn
Today's move marks a sharp turn for Boehner and Republican leaders, who earlier this month had tried to pass a plan that would have let the Senate strip out anti-Obamacare language and send the spending bill directly to Obama.
Tea Party-backed lawmakers rejected that approach, forcing Republican leaders to tie government funding to provisions aimed at stifling the health law.
"It's exactly what we asked for and we got it," said Representative Michele Bachmann of Minnesota.
Republicans, torn by internal strategic and policy disputes, are choosing to make their stand against the health law. The first insurance exchanges open Oct. 1 and other portions of the law already have taken effect.
"Harry Reid has been a jerk, and I think he's done nothing but unify the Republican House, saying 'Look, we're going to do what's right,'" said Representative David Schweikert, an Arizona Republican.
'Political Grandstanding'
At the White House, Obama accused House Republicans of "political grandstanding" that has hurt economic growth. He urged Congress to work together to pass a spending plan and then adopt legislation to increase the nation's borrowing authority.
"Do not shut down the government. Do not shut down the economy," Obama said yesterday. "Pass a budget on time. Pay our bills on time. Refocus on the everyday concerns of the American people."
In a government shutdown, essential operations and programs financed with permanent streams of money would continue, meaning that Social Security checks would be delivered and military personnel would still work. National parks, Internal Revenue Service call centers and passport offices are among the federal facilities that could close.
The bill is H.J. Res. 59.
Before it's here, it's on the Bloomberg Terminal.
LEARN MORE