Why Do Would-Be Business Majors Bomb on the SAT?
Louis Lavelle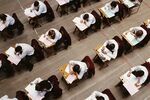 According to the latest College Board report (PDF) on SAT scores, college-bound seniors who intend to major in business had some of the lowest scores around.
Among a dozen prospective majors accounting for the most test-takers, only three scored lower on writing and critical reasoning: health professions, education, and security and protective services. Would-be business majors fared well on math, but even there they got creamed by biology, engineering, and computer science. Ten years ago, the picture wasn't all that different.
There are any number of reasons why college applicants with less-than-great SAT scores would gravitate toward business—including assumptions that business programs are less selective than other majors, easier than other programs, or more likely to result in gainful employment.
But it may be far simpler than that. Steve Schneider, a school counselor for 17 years who works at Sheboygan South High School in Sheboygan, Wis., says he believes the problem may be that many would-be business majors don't know why they're going to college and probably don't belong there. They choose business mainly to satisfy parents and others who are pressuring them about their college plans.
"I think 'business' is a default answer," Schneider says. "It's the answer of least resistance."
Many students who end up in business programs in four-year colleges, where about 40 percent of all students ultimately drop out, are probably better-suited to community colleges, career programs at technical schools, and certification programs, Schneider says. The low SAT scores, he says, are the result of too many kids starting down the wrong path. "Is it an indicator that kids aren't as smart as they should be?" he asks. "I think it's an indicator that there are more kids taking that test than need to be."
Ruth Lohmeyer, a counselor at Lincoln Northeast High School in Lincoln, Neb., for the past 11 years, agrees. While most of the students at Northeast take the ACT, not the SAT, she says many of them graduate intending to major in business, which they view as "a good major to have if you don't know what you want to do."
"Students that I've worked with perceive it as a degree they can complete," says Lohmeyer, who counsels many students in poverty who will be the first in their families to attend college. "It's a degree that is [seen as] generic—they can have a business degree and use it in many different career fields."
If that's the case, it might help explain some of the shortcomings of business programs themselves.
According to the National Survey of Student Engagement, 42 percent of senior business majors spend fewer than 11 hours a week studying, a greater percentage than in any other major.
In their 2011 book, Academically Adrift: Limited Learning on College Campuses, the sociologists Richard Arum and Josipa Roksa reported that business majors have the weakest gains in writing and reasoning skills in their first two years in college. What's more, they wrote, those who later take the GMAT as part of the MBA admissions process have scores that trail those in every other major.
Join the discussion on the Bloomberg Businessweek Business School Forum, visit us on Facebook, and follow @BWbschools on Twitter.
Before it's here, it's on the Bloomberg Terminal.
LEARN MORE