pursuits
Ready to Swap Those McDonald's Fries for Side Salads?
By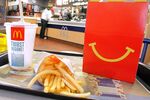 The McDonald's value-meal triumvirate has long consisted of a burger, fries, and a soda. But the world's biggest fast-food chain is dethroning the almighty fry with plans to start offering customers a choice of a side salad, fruit, vegetable, or the beloved potatoes.
The effort, announced on Thursday at the Clinton Global Initiative, is part of a partnership with the Alliance for a Healthier Generation, an organization focused on reducing childhood obesity. Side salads will be an option in the U.S. by early 2014, while other phases of the chain's commitment to healthier options—including promoting only water, milk, and juice in Happy Meals on menu boards—will be implemented in 6 to 10 of McDonald's 20 largest markets before 2017. By 2020, the company said it will spread to all 20 countries.
McDonald's would not break down current sales of side salads, which are already a menu option outside the value-meal menu, and it's unclear how many consumers will make the switch. People can be pretty passionate about their fries—even Julia Child had an opinion. The chain served more than 130 million cups of apples with Happy Meals from Aug. 1, 2012, through the end of July, but those automatically come with both fries and apples.
"We have a sophisticated global supply chain which is well-equipped to handle menu changes," McDonald's spokeswoman Heidi Barker wrote in an e-mail.
Fast-food consumers have shown more interest in lower-calorie options. A study by the Hudson Institute released earlier this year found that sales of all "higher-calorie foods" fell by 1.3 billion orders from 2006 to 2011, including orders of fries, which dipped 1.9 percent at the largest fast-food chains. The shift is already driving menu adjustments, such as the lower-calorie Satisfries launched this week at Burger King.
Even if most consumers choose not to sacrifice their greasy, salty fries, McDonald's decision to offer healthier options is a step toward shaking off perceptions that it only cooks up guilty indulgences.
Before it's here, it's on the Bloomberg Terminal.
LEARN MORE