business
Harvard Does Its Homework, Increases Its Endowment to $32.7 Billion
By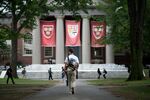 Looks like the Ivy League's investment chiefs started doing their homework again. Harvard, Yale, and the University of Pennsylvania have all reported double-digit endowment returns for their most recent fiscal year, a big improvement over the mediocre year earlier, when Harvard managed to lose money in an up market.
Harvard gained 11.3 percent to bring its endowment to $32.7 billion, the biggest in the country. Yale gained 12.5 percent and now has $20.8 billion, and Penn returned 14.4 percent. Their returns in the prior year were a negative 0.05 percent, a plus 5.8 percent, and a plus 1.6 percent, respectively. The other members of the conference have yet to announce their figures. Schools beyond the Ivy League did well, too: The Massachusetts Institute of Technology gained 11.1 percent, and Bowdoin's 16 percent return pushed its endowment above the $1 billion mark for the first time.
Still, if we're grading on a curve, these universities underperformed the broader market. The Standard & Poor's 500-stock index gained 17.9 percent in the 12 months through June 30, when the schools' fiscal year ends.
Harvard's endowment is still below its high of more than $36 billion in June 2008, on the eve of the financial crisis. The university announced on Sept. 21 a $6.5 billion fundraising campaign, the largest in American educational history.
The eye-watering sums that these elite institutions have amassed can be rankling at a time when the country is such a fiscal mess—especially in the student loan arena. "Is Harvard so rich that it should literally be illegal?" the Atlantic asked this week. Bloomberg's Matthew C. Klein responds that the "giant piles of money" aren't useless rainy-day funds but productive assets that fund a big chunk of universities' operations.
Penn's strong relative performance sets a high bar for its new chief investment officer, Peter Ammon, to meet next year. Ammon is a protégé of Yale's endowment boss, David Swensen, who is credited with pioneering the "endowment model" of investing that embraces illiquid assets and long time frames.
Before it's here, it's on the Bloomberg Terminal.
LEARN MORE