Grading the Kindle Fire as Amazon's Tablet Turns Two
by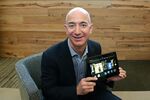 Amazon's introduction of its new Kindle Fire tablet this week was a marvel to behold and a riddle to deconstruct. The company did almost everything differently. Instead of jamming journalists into a convention center to live-blog the proceedings, Jeff Bezos conducted more than a dozen sit-downs with representatives from print, television, and the blogosphere. In a mild rebuke to the notion that Bezos is averse to the press, reporters were invited, one after another, to visit Amazon headquarters for an audience with the sage of Seattle.
What Bezos talked about in these sessions was illuminating as well. Other Kindle execs briefed journalists on the new, spiffed-up Kindle HDX models. Bezos spent his time talking about the principles that guide Amazon's Kindle group ("sell premium products at non-premium prices") as well as such new features as the Mayday button, which summons a live videochat with a customer service rep. At the end of each conversation, Bezos actually did pull out "one more thing" in Jobsian fashion. But it was last year's Kindle HD, now repurposed at $139, down from an introductory price of $199 last year. It's the Kindle Fire model with the fewest bells and whistles, not the most, and it was the opposite of what Steve would have pulled out of his bag at the end of a product rollout.
It was a revealing gesture at a critical moment. Two years ago tomorrow, Bezos introduced the original Kindle Fire at one of those stereotypical press confabs in New York City. (Back then, Bloomberg Businessweek put the story on its cover.) That first device was in many respects a dud. It bore a striking resemblance to the lame Playbook tablet by BlackBerry, ran a half-baked operating system, and had completely neglected some critical features such as onboard cameras and, oh yeah, volume buttons. Still, the seeds of a compelling strategy were being planted. Amazon priced it at $199, $101 less than the PlayBook. The price got people's attention, and the device did well enough to spark interest in the new category of purse-size, 7-inch tablets and to spawn imitators such as Google's Nexus 7 and the iPad Mini.
Ever since, it has been increasingly clear the Kindle Fire isn't just a product but a philosophy and in some ways an attempt to evade the iPad juggernaut by minting an early new market. Amazon has never matched the iPad's 10-inch display, instead creating devices with 7-inch and 8.9-inch screens. It sells its devices at cost (another Bezos tenet: "We make money when people use our products, not when they buy them") and uses the devices to usher customers into the Amazon mall. Kindle Fire owners likely sign up for Amazon's Prime two-day shipping service in large numbers and buy not only more digital books, music, and videos but also lawn furniture, clothes, and other physical products. Amazon has in effect created a virtuous circle linking the various parts of its business, where the use of one service feeds and accelerates the use of another. For each of the past two years, I've asked Bezos during interviews to illustrate this flywheel on a whiteboard. He's declined both times, and no wonder: It's the secret sauce.
It's precisely because the Kindle Fire is a spoke in the company's flywheel that its success is so difficult to evaluate. How much does it increase sales of digital and physical products? Amazon won't say. It doesn't report overall Kindle Fire sales numbers, either, so we're left to left to cite analyst forecasts. Chad Bartley of Pacific Crest Securities estimates that Amazon sold 11.8 million tablets in 2012 and projects sales of 10.5 million this year. Mark Mahaney of RBC Capital Markets believes Amazon is seeing a "1x to 2x increase in music and video unit sales per Kindle Fire owner" and adds in a report that "all in, we believe that Kindle Ecosystem sales are contributing more than 10 percent of Amazon's total revenue."
It will take more time and data to give a meaningful grade to the Kindle Fire. In the meantime, this year's models bring additional evidence that Bezos and company are willing to do almost everything differently—even a press event.
Before it's here, it's on the Bloomberg Terminal.
LEARN MORE