Government Shutdown Preparations Are a Lot of Work
Anticipating a possible shutdown is almost as bad as having one
By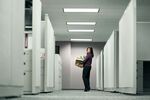 Tourists flock to Maine's Acadia National Park each October when the leaves change color, but Washington's budget standoff is keeping some away this year. The park will close Oct. 1 if Congress doesn't pass a spending bill to keep the government open. David MacDonald, president of the nonprofit Friends of Acadia, says visitors are calling to ask, "Should I bother to come this year?"
Whether or not lawmakers broker a deal on the budget, Americans are already paying for the standoff. Preparing for a possible shutdown is nearly as disruptive as actually shutting down because managers must shelve their regular work and come up with contingency plans they might not need. "Everybody knows the government is going to get funded eventually," says Dan Mendelson, a former budget official in the Clinton administration. "Senior people are spending their time right now going through this charade."
On Sept. 17 the Office of Management and Budget (OMB) sent a memo instructing agency heads to prep for the worst. They must decide which staff is needed for essential functions and who to send home, something they last did in late 2011. It's a tricky calculation, says Alan Chvotkin, executive vice president of the Professional Services Council, which represents contractors: "Every one is an individual decision." The 2011 plans agencies drafted are a preview of what to expect this year. While active military would remain on duty without pay, most civilians at the Pentagon would be furloughed. The Securities and Exchange Commission would likely keep monitoring markets but stop reviewing financial filings. Social Security checks would continue.
Even as the vast bureaucracy readies to close, workers were still waiting to hear whether they'd be furloughed with just a week before the shutdown deadline, says Colleen Kelley, president of the National Treasury Employees Union. "What employees will tell you they are hearing is silence," she says. OMB spokeswoman Emily Cain says in an e-mail that the White House is hoping for the best: that all of the prep work will have been for naught.
A five-day shutdown in November 1995 sent 800,000 workers home. A partial closure that began the following month lasted 21 days and furloughed about 250,000. The National Institutes of Health stopped enrolling new patients in drug trials. The hiring of 400 Border Patrol agents was delayed; 200,000 Americans waited longer to get passports; and 7 million visitors were shut out of parks and monuments. In Maine, MacDonald is trying to woo tourists despite Washington's bickering. "The leaves," he says, "are going to be beautiful."
BOTTOM LINE -
The bottom line: Federal agencies are busy figuring out which government workers are essential and which can be sent home.
Before it's here, it's on the Bloomberg Terminal.
LEARN MORE