Ladies, Please Burn Your Black Work Pants
By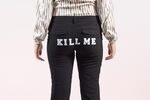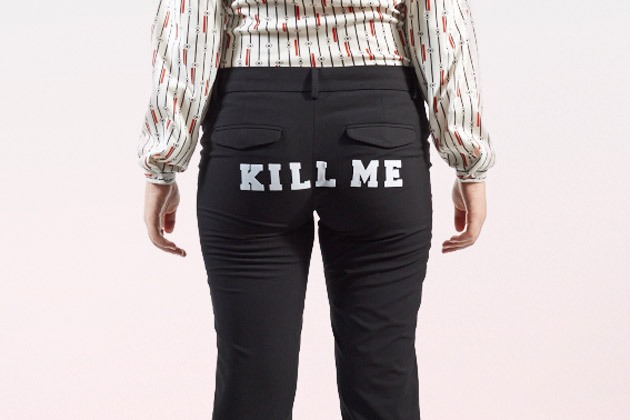 Ladies, take off your pants. Those black, poly-blend, straight-legged slacks you wear to work every day. You know the ones—they gap at the waist and pull at the crotch. They make a distinct scratching sound when you cross and uncross your legs in a meeting. Sometimes they have pleats. Sometimes they have back pockets. Sometimes they have stretch. But they're never, ever flattering. They're boring and sad, and they make you look boring and sad, too.
Women started wearing pants to office jobs in the early 1970s. Dress codes had finally relaxed, and Mad Men-era formality gave way to Mary Tyler Moore, who was making it on her own in cute, fitted bell-bottoms. The '80s brought power suits and shoulder pads and the idea that to succeed in a man's world, women had to dress like dudes. Workwear got roomier and more masculine. Even when body-conscious styles emerged in the '90s, shapeless black office pants remained, like a particularly determined stain. They haven't undergone a major makeover since. Take a woman from 1995 in black Express pants, put her in an office today, and no one would know the difference (minus the square-toed shoes and visible lip liner).
"The standard 'woman's trouser' is just depressing," says Jessica Morgan, one half of style bloggers the Fug Girls. "If you work at a company where you can't get away with jeans or a leather legging-pant, it's dark days out there." For the past few years, fashion has favored slim-fitting cigarette pants in patterns and color. At the spring 2014 shows, designers such as Reem Acra and Diane von Furstenberg featured wide-legged, Katharine Hepburn-esque trousers. While these styles might be somewhat flashy (and may not be as friendly to those who aren't model-skinny), use them as inspiration. Experiment with bright colors and different shapes.
Start at J.Crew. The Minnie Pant ($138) is conservative enough for formal workplaces but also has a slim, modern fit. Also try the Eaton Boy Trouser ($148)—it has a fun, cropped cut. At Kate Spade New York, the Ali Trouser ($278) is a less intimidating version of the wide pants seen on the runway. Feeling bold? Buy them in red. Gap has some surprisingly decent offerings—the Slim Cropped Plaid Pants ($54.95) give a girly twist to menswear. And the Julie Leopard Print Jacquard Ankle Pants at Ann Taylor Loft ($79.50) have a subtle animal pattern and an attractive wide waistband. If you're willing to spend more than $500, both Stella McCartney and Jil Sander make basic, luxe, work-appropriate bottoms.
Don't expect these all to look fabulous or to magically turn you into Kerry Washington in Scandal. Pants are difficult. There are crotch issues, hip issues, and thigh issues to overcome. And "it's hard to concentrate on your work if you are constantly wondering about the status of your pant fit," says Simon Doonan, the creative ambassador-at-large at Barneys New York. So try on as many pairs as possible to figure out which look best on your body. A tiny bit of Lycra goes a long way. Bring along an honest friend to weigh in on your butt.
You will find something, a few things, to replace those unfortunate black pants. Stylishness shouldn't be banished to the weekends! What kind of drab life is that? If all else fails, take a cue from Morgan: "The tragedy of the plain black pant is why, when I worked at an insurance brokerage, I wore a whole lot of dresses."