Wall Street and Facebook: Reunited and It Feels So Good
by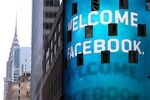 Divorce-inducing hours. Machiavellian bonus jockeying. Constant culling of the ranks. Wall Street is that most unforgiving of places.
By contrast, investment banks' effusive rapprochement with Facebook, that dud public offering, is worthy of 50-white-dove treatment at Camp David. The stock has almost doubled since Facebook wowed the Street in late July, handing the social network a $122 billion market valuation, which already exceeds that of Walt Disney, the media conglomerate that owns ESPN, ABC, and multiple theme parks, and has fully six times Facebook's revenue. (I'll spare you gross national product comparisons.)
For the better part of the past year the mere mention of Facebook was a dig at Wall Street, so botched was its IPO and subsequent stock slide. (It hemorrhaged half its market value in just four months after its May 2012 debut.) But now that the company has hit its groove, proving that it can sell lots of mobile advertising, analysts are racing to cheer its ascent.
The paroxysm of bullishness on Wall Street for ticker FB has been contagious. Today, with Facebook already at an all-time high of $50, Jefferies hiked its price target to $60 from $37. Goldman Sachs simultaneously increased its target to $58 from $52. Analyst Heather Bellini cited Facebook's upbeat presentation at Advertising Week 2013: "Our conversations on the conference floor suggest continuing momentum for Facebook, but also significant runway left."
"Despite the stock price's recent doubling, we believe the company is very early in generating revenue from its enormous user base," wrote Canaccord Genuity's Michael Graham on Wednesday, when he (alongside Jefferies) set a Street-high bar of $60 for the stock. "While the path higher may not be linear, we expect Facebook's reach, robust network effects, vast self-disclosed user data, and product innovation will increasingly make it a high-priority target destination for many marketers."
On Wednesday, Oppenheimer analyst Jason Helfstein lifted his price target to $54 from $36, pounding the table on Facebook's potential to profit from video and Instagram. That's also when J.P. Morgan reiterated its "overweight" rating: "We continue to believe that Facebook's strong mobile usage is offsetting desktop declines and that competing services are having only a modest impact on Facebook."
On Tuesday, Citigroup analyst Mark May goosed his Facebook target price to $55 from a prior $32, explaining: "Following several conversations with advertisers and agencies, we believe the factors driving the sudden inflection and growth in the second quarter are sustainable and that there are a number of factors that should contribute to further growth and gains, and potential upside."
Such analytical breathlessness for a dot-com surely has you thinking: We haven't had that spirit here since 1999. Indeed, Facebook now sports a price-earnings ratio of 70, compared with 20 for Google, according to Bloomberg consensus estimates. Combined, the social network's cash and market value represent 16 times its revenue, compared with five times for Google and a median sector multiple of a little more than two.
True, today's ratios don't necessarily mean so much if Zuckerberg & Co. can keep increasing profits and sales at breakneck clips. After all, notes Canaccord's Graham, in 2005, Google had a similar multiple and revenue level; since then it has ramped up its business so massively and consistently that it's outperformed the Standard & Poor's 500-stock index by a factor of eight.
"The platform Facebook has—global, everyone and their grandmother—the scale is unfathomable," says Darren Chervitz, director of research and co-fund manager at Jacob Asset Management. "It's not surprising that analysts are now doing backflips to upgrade and raise their targets after the stock has doubled." But Chervitz and his colleagues were snapping up shares in the low 20s, when they were decidedly unloved. "Now," he says, "everyone is putting lots of optimism into the potential for Facebook to keep growing big. And with that comes complacency. I'd certainly be a lot more cautious about putting money to work here."
Before it's here, it's on the Bloomberg Terminal.
LEARN MORE