StumbleUpon's Mobile Ad Breakthrough
A pioneer may have finally cracked the code for handheld ads
By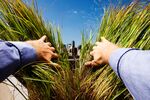 For Internet content providers, figuring out mobile advertising is the next great digital puzzle. From Google and Facebook to the New York Times, companies are struggling to devise new smartphone and tablet ads that strike advertisers as more effective than clunky banner displays and don't alienate users. A solution may have arrived via an unexpected source: a 12-year-old, nearly forgotten aggregator of links.
StumbleUpon, one of the Web's first major social-bookmarking services, has seen better days. Acquired by EBay in 2007, the company was bought back two years later by its co-founders and investors including Accel Partners, August Capital, and venture capitalist Ram Shriram. Traffic to StumbleUpon's collection of links, which users can vote up or down, has fallen by more than half, to 3.3 million monthly readers in the last two years, comScore data show. That's far below the 9 million of category leader Reddit, closer to faded rivals such as Delicious and Digg.
While those companies have struggled to create sustainable business models, StumbleUpon became profitable this year with a big boost from mobile, says Chief Executive Officer Mark Bartels. (He wouldn't disclose the company's profit margins.) Almost 40 percent of time spent on the site now takes place on mobile devices, double that of last year. More than one-fifth of StumbleUpon's ad sales come from its smartphone and tablet apps, and the company expects revenue to grow as much as 33 percent in 2013, to $40 million, he says.
Some of that was luck. The Stumble button, which provides readers with new stories or websites that resemble those they've suggested to other users, is a natural fit on mobile, enabling users to easily browse without a keyboard. "The more effective your recommendations are without textual input, the better experience you can deliver on a small screen," says co-founder and Chairman Garrett Camp, who helped start taxi-booking service Uber.

When users click the Stumble button, they have a 5 percent chance of being redirected to an advertisement, either a video clip or an ad in the form of a website or game that's more interactive than a conventional display ad. They can also vote on those ads. Teal Newland, vice president of sales, says mobile users gave high marks to Red Bull's short video of skydiver Felix Baumgartner jumping from a helium balloon in Earth's stratosphere last year. That tends to work better than banner ads, says Rebecca Lieb, an analyst at researcher Altimeter Group. "Display advertising across-the-board is becoming less effective," she says, especially on smaller screens where "you have to be more deeply integrated into the user experience."
StumbleUpon's 100,000 advertisers pay as much as $75,000 for a few days of mobile promotions. "Mobile is part of every conversation we have with an agency and a brand," says Newland, whose team helps create some of the ads. "It's all about producing content that works really well on that device." The company may eventually customize ads based on location and other device-delivered data, says Bartels.
Don Steele, vice president of digital marketing at Comedy Central, uses the service to circulate clips of the network's show Drunk History and a game in which players fight actor James Franco, the subject of a recent Comedy Central roast. "We can use StumbleUpon to help users discover new content or to remind them that content they love from us is out there," says Steele.
Bartels fired StumbleUpon's marketing division in January, reducing total staff by 38 percent, to 75. He says he's now hiring data scientists and engineers with experience honing recommendation engines, betting that improving the service's suggestions to users will yield more visitors and new business. There are no guarantees that StumbleUpon will make it, but either way they've pushed ads a little further into the mobile era.