Don't Even Think About Returning That Dress
Return fraud costs America's merchants almost $9 billion annually. Now they're fighting back
by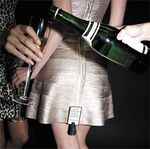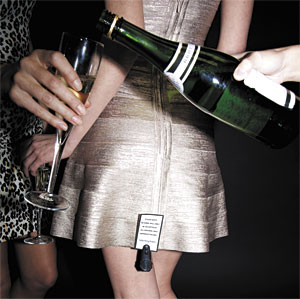 High-end retailers such as Bloomingdale's are always happy to sell a glitzy party or bridesmaid dress that can cost hundreds of dollars. The return of a pricey frock after it's been worn is a less jubilant event. If a garment comes back obviously used—sweat-stained, for example—a retailer can refuse to refund it, but that conversation can be "awkward," says Richard Mellor, vice president of loss prevention at the National Retail Federation. So some retailers simply look the other way.
Many merchants have long lived by the mantra that the customer is always right, adopting liberal return policies in hopes of winning the loyalty of free-spending shoppers. But with a recent increase in the wearing and subsequent return of expensive clothes—a practice merchants call wardrobing—many retailers are taking a stronger stand against the industry's $8.8 billion-a-year return fraud problem. Bloomingdale's, a unit of Macy's, in February started placing 3-inch black plastic tags in highly visible places, such as the front bottom hemline, on dresses costing more than $150 as they are being purchased. The clothes can be tried on at home without disturbing the special tag. But once a customer snaps it off to wear in public, the garment can't be returned.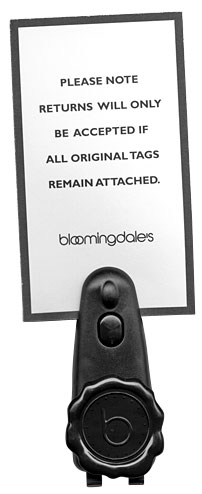 The department-store chain isn't alone in trying to outwit some unscrupulous customers. Electronics retailers have turned to hefty restocking fees to discourage short-term use of expensive electronics to watch events such as the Super Bowl. Some Victoria's Secret stores are compiling lists of serial returners. And high-end outdoor goods retailer REI recently announced it's ending its lifetime return policy after customers took advantage of its lenient rules.
Cracking down on refund fraud, which includes everything from returning used goods to switching tags on sale merchandise to altering e-receipts from online purchases, has its risks. Many honest customers don't like the changes, which they view as a sign of a retailer's mistrust. Since there's no shortage of competitors, chains often are reluctant to press the issue. Explains Mellor: "It's a delicate balance of loss prevention and good customer service, and the relationship has to be handled with appropriate finesse."
Yet merchants say the costs are too great to ignore. About 65 percent of retailers in a National Retail Federation survey reported experiencing wardrobing last year, up from 61 percent in 2011. The surveyed merchants suspected 3.3 percent of their total returns in 2012 were fraudulent. Improper returns afflict a wide swath of products. Men's special-occasion clothing is a prime target. Such "borrowing" also has become prevalent in fine jewelry, seasonal décor, and tools, Mellor says. Ditto for expensive video cameras popular at weddings. After the nuptials, the gear sometimes goes back into the package and off to the store for a refund.
A growing number of consumers also engage in what retailers call "price arbitrage," buying similar items and returning the cheaper one in place of the more expensive item, says Read Hayes, a director of the Loss Prevention Research Council. They do that by switching labels, he says. Some shoppers ask for full-price refunds for goods they bought at a marked-down price. When a store offers a buy-one-get-one-free deal, some shoppers later return the free item for full price. Retailers say the holiday season is rife with return fraud, since the yearend brings many social events, and price promotions at stores create more arbitrage opportunities.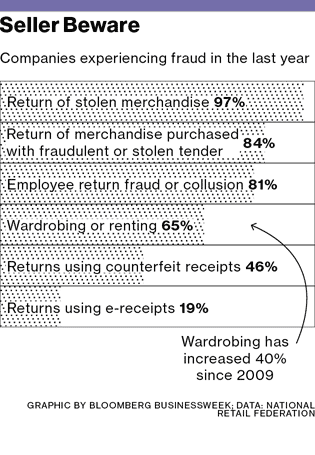 Retailers tend to focus on schemes that hurt their individual operations most. REI in June placed a one-year limit on returns after years of accepting them no matter when an item was bought. REI has "a small, but growing, number of customers who stretch our policy beyond its intended purpose," Tim Spangler, senior vice president of retail, said in an e-mail. Beaumont (Tex.)-based Conn's, which runs more than 70 electronics and appliance stores in Arizona, Louisiana, New Mexico, Oklahoma, and Texas, charges a 15 percent restocking fee unless the merchandise fails within 24 hours of purchase.
About 70 percent of retailers now require an ID for a return without a receipt, Hayes says, and an increasing number won't accept a return without a receipt. Stores operated by L Brands' Victoria's Secret and Bath & Body Works chains, are using return databases such as the one offered by consultant the Retail Equation to track patterns to identify customers whose continual returns are suspicious; they'll then be refused future return privileges. Hayes says others are exploring such loss-prevention technologies as those developed by SmartWater CSI, which rely on applying code-laced liquids to valuable products; a merchant can then use ultraviolet light to view the code and verify the authenticity of a purchase.
Nordstrom, another large retailer selling expensive fashions, doesn't use the plastic no-return devices on clothing, says Colin Johnson, a spokesman for the Seattle-based company. Silver-colored paper tags, similar to price tags, are affixed high on the outer side seam under the arm of special-occasion dresses. They must still be attached for returns. "Our experience is that if you treat the customer with respect, they respect you back," he says.
Bloomingdale's more visible tags have spurred complaints on social media. A Twitter user by the name MatiLDA on April 28 posted that the Bloomingdale's tags tore some items when she removed them at home, leaving her with damaged clothing she couldn't return. But Bloomies says the black tags play a valuable role. "The b-tags are in place to reinforce the fact that Bloomingdale's will be unable to accept merchandise that has been worn, washed, damaged, used, and/or altered," spokeswoman Marissa Vitagliano said in an e-mail.
Merchants will be watching closely to gauge the response to the wardrobing crackdown at Bloomingdale's. "They are going to alienate customers that abuse the policy," says Marie Driscoll, founder of Driscoll Advisors, a New York-based retail consultant, "and I don't think that is so bad."
Before it's here, it's on the Bloomberg Terminal.
LEARN MORE