Obamacare Incentives Push Hospitals to Keep Medicare Patients Healthy
Social workers are the new frontline of the accountable-care model
By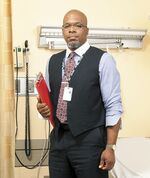 Esther Redd, a 53-year-old Harlem resident, was admitted to New York's Mount Sinai Hospital seven times from December 2012 to May 2013, spending a total of 24 days for medical conditions ranging from kidney failure to high blood pressure to diabetes. She had been missing doctors' appointments, skipping her medications, and using the emergency room for basic care. "I was playing Russian roulette," says Redd. "I wasn't used to going to the doctor. I was used to being healthy and normal."
Then in May, Redd's name was added to a list of high-risk patients that wouldn't have existed without the Affordable Care Act. Under Obamacare, hundreds of doctors' groups and hospitals, including Mount Sinai, have started receiving financial incentives from the government to keep Medicare patients healthy—and face penalties when they are readmitted to the hospital too soon.
What's known as accountable care is a change from the traditional fee-for-service model in which hospitals are paid each time a patient shows up, making more money the more care they provide. Under the new system, major hospitals concentrate on their sickest patients to figure out how to keep them healthy and at home. "This is not just one more of those 1990s initiatives around cost containment; this is really a trend around changing the way you deliver care," says Karoline Hilu, a senior director at the Advisory Board, a Washington-based health-care consulting firm that works with hospitals. "This is going to be what hospitals need to do to survive."
At Mount Sinai, the work of identifying those patients likely to hurt the bottom line begins with an algorithm that scores each one's potential to be readmitted within a month. Those scores, which are based on factors such as medical history and recent admissions, are routed to a group of social workers who contact patients most at risk.

Social workers spend 75 minutes on average meeting with patients, trying to tease out details of their medical history that would not be found on a hospital chart, such as whether they have to make choices between putting food on the table or paying for medicine. "We are looking for the underlying reason that people are coming back to the hospital," says Maria Basso Lipani, program director for Mount Sinai's preventable admissions care team. "We really will do anything and everything."
The job of keeping Redd out of the hospital fell to social worker Derrick Williams, one of 27 employed by Mount Sinai. When Redd first became ill last year, she didn't have a primary-care doctor and bounced between emergency rooms trying to figure out what was causing her vomiting, pain, and sudden weight gain of 50 pounds. Her legs were so swollen with fluid she couldn't walk or put her clothes on, and she struggled to care for her 13-year-old daughter. "I used to feel like I wasn't going to wake up the next morning," Redd says. "The only time I felt good was when I was sleeping." Doctors at Mount Sinai finally diagnosed her with kidney failure and told her she needed to go on dialysis.
One of the first things Williams did was find Redd a primary-care doctor, a simple yet effective way of keeping patients away from the emergency room. Mount Sinai has a program that grants its most at-risk patients easy access to a regular doctor or nurse practitioner. Now Redd has someone to call day or night who can tell her if she's having a true emergency and, if not, schedules her for an office visit within a day or two.
Next, Williams had to make sure Redd showed up for her appointments. He would have to wake up before sunrise at his home in Brooklyn to meet Redd at 6 a.m. on Manhattan's Upper East Side for her three weekly dialysis treatments and accompany her to doctor visits. The social worker also helped enroll Redd in a mental health program to treat her depression and arranged a delivery of free meals suited for her medical conditions. "My work with Esther was morale as well as concrete services," says Williams, 42. "Having to come here three times a week and already having depression issues, having to raise a young child, having cardiac issues, side effects from medications—that's a lot. I would try to tell Esther, 'You are my hero.' "
Many of Williams's colleagues share his sense of dedication. One social worker went to the New York State Department of Motor Vehicles to lobby on a patient's behalf for a driver's license—a piece of identification needed to get health insurance. Another arranged to get mold removed from a patient's apartment to help with a respiratory condition.
While the work isn't cheap or easy, Mount Sinai has assembled data that show the efforts are worth it in the long run. During a test run from September 2010 to May 2012, the program reduced admissions by 43 percent and cut emergency room visits by 54 percent among more than 600 patients. It also saved an estimated $1.6 million in medical costs over a six-month period.
Based on the initial results, Mount Sinai received a five-year grant from the federal government to pay for 20 social workers focused on patients in Medicare, the U.S. government's health plan for the elderly and disabled. In addition, insurer Healthfirst foots the bill for three social workers to help keep its members healthy. The hospital pays for four more.
The government expects the savings from accountable-care programs across the country to be as much as $1.9 billion from 2012 to 2015. At the same time, hospitals with a high number of readmissions within 30 days can lose as much as 1 percent of their Medicare payout for fiscal 2013 and 3 percent for 2015. While not all hospitals are investing as heavily as Mount Sinai in keeping patients healthy, the Advisory Board's Hilu says almost every facility she works with has a program to prevent readmissions: "This is going to keep coming; it is only just beginning, and it is going to be increasing."
The program has helped Redd take control of her health. Without the intervention, she says, she would probably be dying or dead. Since May, she has been admitted to Mount Sinai just once and is on the waiting list for a kidney transplant. She's planning a party to celebrate the day she can go off dialysis, which keeps her tethered to a machine 12 hours a week. Williams will be a guest of honor at the festivities. "I wasn't realizing that the only way I would get better was if I treated myself better, and he showed me that I needed to do this," says Redd. "He is a good man."
BOTTOM LINE -
The bottom line: Mount Sinai Hospital's experiment with accountable care reduced admissions by 43 percent over 20 months.
Before it's here, it's on the Bloomberg Terminal.
LEARN MORE